Original caption (above photograph): "A Pool Room Branch (Chouteau & Manchester). These boys were playing pool and smoking in the pool room while waiting for papers . The smallest boy is 9 years old and sells until 9 P.M. Location: St. Louis, Missouri."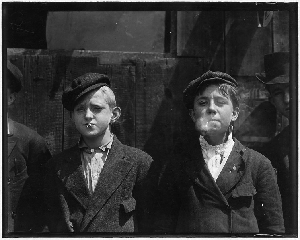 When we think of turn-of-the-last-century newsboys today, we tend to think of the musical "Newsies" or the newsboy cap. We don't typically think of the hordes of poverty-stricken boys who, unsupervised and often under appalling conditions, sold newspapers on the nation's streets for a pittance.

Note that it was not until 1950 that research was published linking smoking to lung cancer. By then, all U.S. states banned the sale of cigarettes to minors (though the age of a "minor" varied, and state smoking laws for minors continue to vary from state to state).

The photographer, Lewis Wickes Hines (1874-1940), compiled photographs taken between 1908 and 1912 for the National Child Labor Committee (NCLC). These photographs, taken while working undercover, were pivotal in passing child labor legislation in the United States.

Date Created/Published: May, 1910. Image courtesy of the Library of Congress.

Original caption for the photograph on the right: "A.M. Mon. May 9, 1910. Newsies at Skeeter's branch They were all smoking. St. Louis, Mo. Location: St. Louis, Missouri."