Release date
: 2012
Length
: 150 minutes (2 1/2 hours)
Age appropriateness
:
Lincoln
is officially rated PG-13 in the United States. This movie (set during the U.S. Civil War) contains war-related violence but minimal gore, as well as perhaps half a dozen brief uses of profanity. There should be no issues playing this film in a classroom setting for junior or senior high school students. However, the complex material is more than likely beyond the grasp of many junior high school kids, making this film much more suitable for high schoolers.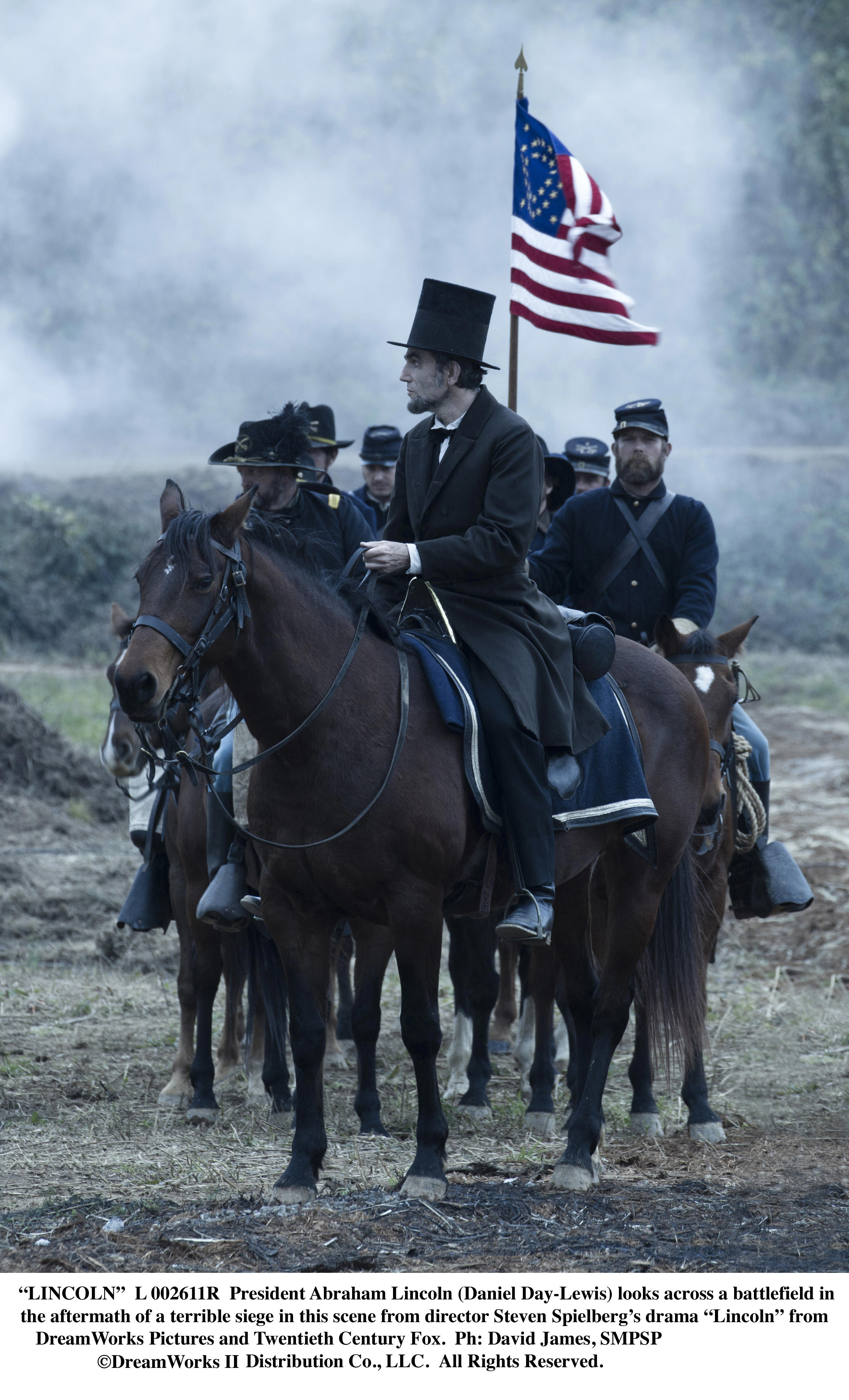 Creators and stars
: Chase Edmunds, Christopher Evan Welch, Colman Domingo, Dane DeHaan, Daniel Day-Lewis, David Oyelowo, David Strathairn, David Warshofsky, Doris Kearns Goodwin, Elijah Chester, Gloria Reuben, Hal Holbrook, Jackie Earle Haley, James Spader, John Hawkes, Joseph Gordon-Levitt, Julie White, Kathleen Kennedy, Kevin Kline, Lukas Haas, Richard Warner, S. Epatha Merkerson, Sally Field, Sean Haggerty, Steven Spielberg, Tommy Lee Jones, Tony Kushner, Wayne Duvall
Historical accuracy
: The
Lincoln
screenplay was written by Tony Kushner. The
Lincoln
screenplay is based in part on the book 
Team of Rivals: The Political Genius of Abraham Lincoln
 by Doris Kearns Goodwin.
Review
: Steven Spielberg's "Lincoln" (2012) is as much about the Thirteenth Amendment and Washington politics as it is about the 16th president of the United States. The movie is set between January and April of 1865, from the start of Abraham Lincoln's second term to his assassination, during which the Thirteenth Amendment was passed in the U.S. House of Representatives (January 31, 1865) and the Civil War drew to a close (officially declared at an end on May 9, 1865). The screenplay is based on the work of Doris Kearns Goodwin.
Audiences of all ages will enjoy the superb acting (Daniel Day-Lewis as Abraham Lincoln, Sally Field as Mary Todd Lincoln, Tommy Lee Jones as Thaddeus Stevens, James Spader as W.N. Bilbo, and many others) and beautiful cinematography. Although cinema devotees may find some scenes a bit corny—for example, soldiers reciting the Gettysburg Address to Lincoln from memory—these same scenes are precisely what make this film perfect for a broader audience. "Lincoln" achieves a near perfect blend of historical accuracy, cinematic excellence, and popular appeal.
Of course, for history teachers, the real question is, "What will my students learn from watching this movie?" The quick answer is, "Quite a bit." Overall, the film does a marvelous job of illustrating how politicking and bipartisanship work in actual practice. Radical Republicans, led by Thaddeus Stevens, unabashedly want full rights for slaves. Moderate Republicans want to end slavery, but are less eager to grant full rights to freed slaves. Democrats are fearful of ending slavery for many reasons, including the threat that freed slaves will compete with whites for jobs. Through various machinations, from heartfelt appeal to outright patronage (use of the spoils system), Lincoln passes the 13th Amendment. These and other complicated issues are explained in a way that is accessible and understandable by young people.
Before watching this film, students should probably learn the names, backgrounds, and relationships of key characters. With some background knowledge given to kids, once the film gets rolling, teachers more than likely won't feel compelled to constantly shout out essential facts (or pause the film to explain). The filmmakers even do viewers the kind service of naming certain characters as they appear on screen (otherwise most people, plenty of high school history teachers included, would be clueless that Alexander Stephens was the vice president of the Confederacy).
Review and discussion questions
: "Lincoln" provides fodder for numerous nuanced classroom discussions. The following questions and activities are provided as a starting point.
1
. Create a Venn diagram comparing and contrasting the positions of the following groups toward the proposed 13th Amendment: Radical Republicans, Moderate Republicans, and Democrats.
2
. Abraham Lincoln resorts to various methods in order to get the House of Representatives to pass the amendment. Do you believe that these tactics are necessary? Why or why not?
3
. Explain why the Emancipation Proclamation was able to free only those slaves living in the Confederacy, and why this freedom may have been taken away after the war, had the 13th Amendment failed to pass.
4
. Thaddeus Stevens downplays his true political beliefs in order to gain passage of the amendment. Do you feel that this makes him more principled or less principled? Of standing one's ground despite guaranteed defeat, or downplaying one's beliefs in order to gain a small victory on the path to additional victories, which is more honorable?
5
. What character in this film do you identify with most strongly, and why?
Vocabulary terms and names
: Abraham Lincoln, Alexander Hamilton Coffroth, Alexander Stephens, Appomattox Court House, Benjamin Franklin "Bluff" Wade, Capitol Hill, Charles Sumner, Civil War, Confederate States of America, Edwin McMasters Stanton, Elizabeth Keckley, Emancipation Proclamation, Fernando Wood, Francis Preston Blair, George H. Pendleton, George Helm Yeaman, George Robert Latham, Gideon Welles, Hiram Price, James Mitchell Ashley, James Speed, John George Nicolay, John Hay, John Palmer Usher, Lydia Hamilton Smith, Mary Todd Lincoln, Montgomery Blair, Richard Schell, Robert E. Lee, Robert Todd Lincoln, Schuyler Colfax Jr., slavery, Thaddeus Stevens, Thirteenth Amendment, Ulysses S. Grant, W.N. Bilbo, war powers, Washington, D.C., White House, William Dennison Jr., William P. Fessenden, William Seward
Worth further reading up on
: Most of the characters in this film (largely politicians) are well-known historical figures. Lesser known, but no less interesting, are Lydia Hamilton Smith and Elizabeth Hobbs Keckley.
Lydia Smith
(played by S. Epatha Merkerson, whom you may recognize from her years on the television program "Law and Order") served as housekeeper to Thaddeus Stevens, and was rumored to be his mistress. Together, it is believed by many historians, they worked on the Underground Railroad.
Elizabeth Hobbs Keckley
(played by Gloria Reuben, popular as Jeanie Boulet on television's
ER
), born into slavery, became a successful 
modiste
 (personal dressmaker) to Mary Todd Lincoln, Mary Custis Lee (wife of Robert E. Lee), Varina Davis (wife of Jefferson Davis), and others, as well as longstanding confidante to First Lady Lincoln. Her autobiography, 
Behind the Scenes or, Thirty Years a Slave and Four Years in the White House
, was first published in 1868.