| | Welcome to Student Handouts |
| --- | --- |
Free Educational Materials for K-12 Teachers and Students of All Subjects
Note
: Some of our web pages have been shuffled around. If you are having trouble locating something, please use the search box below or the tabs to the left. Our apologies for any inconvenience.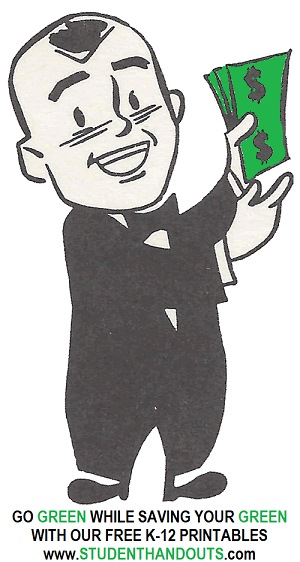 Check out some of our latest releases:
Getting-to-Know-You Bingo Game - Icebreaker is free to print (PDF file) for elementary school students.
American Revolution Essay Questions - Free to print (PDF file). For high school United States History students.
Abraham Lincoln Cursive Script Copywork Workbooks - Students practice their cursive script handwriting skills while reading and copying famous quotes by President Lincoln. Free to print (PDF files). Five cursive script handwriting practice workbooks total.
Rule of 72 Worksheet - Free printable reading with questions for grade 7-12 Economics students.
New York State Facts Worksheet - Students not only complete research on the state of New York, but must cite their sources for the information they discover. This fun, educational activity is appropriate for students in grades four and up.
Irregular Plural Nouns Crossword Puzzles - Free to print (PDF files) for lower elementary students.
Capitalization Challenge Worksheets - Free to print (PDF files) for lower elementary ELA: English Language Arts students.
Hermann (Arminius) Biography Workbook: Learn all about this ancient Germanic chieftain of the Cherusci tribe who turned against the Romans and defeated three legions at the Battle of the Teutoburg Forest in 9 C.E. This workbook, designed for high school students, is nine pages in length and full of cross-curricular activities and questions.
The Little Red Hen eBook with Worksheets - Free to print (PDF files) for lower elementary students.
Alexander the Great Biography Workbook - Free to print (PDF file) for high school World History and European History students. Eleven pages in length.
Click for some of our most popular web pages:
Attendance Forms

Everything from printable student sign-in sheets to a DIY attendance book.

Substitute Teaching Kit

Absent for the day? Covering for an absent teacher? We have everything you need to have a great day with plenty of effective learning.

High School World History PowerPoints

We have lots of PowerPoint presentations, all free, on most topics studied in high school World History classes.
EDUCATIONAL MATERIALS THAT MEET AND EXCEED THE
COMMON CORE
STATE STANDARDS
We are dedicated to providing quality, curated, unique educational materials for little or no cost as part of our mission to democratize education in the United States and around the world. We firmly believe that, given the tools, every student can achieve academic success and reach her or his full potential.
Created by Experienced Educators for Use by K-12 Classroom Teachers and Homeschooling Parents