| | Welcome to Student Handouts |
| --- | --- |
Free Educational Materials for K-12 Teachers and Students of All Subjects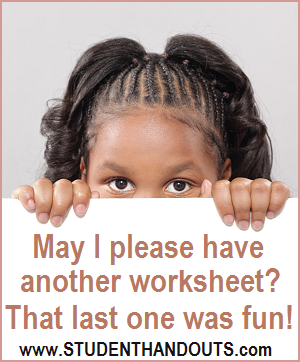 Check out some of our latest releases:
Ottoman Empire Essay Questions - Here's a free sheet of writing exercises on the Ottoman empire, designed for high school World History students.
Kingdom of Benin Writing Exercises - Worksheet with three short essay questions on this African kingdom.
Mongolian Empire Essay Questions - Two sheets of writing exercises, each with three items. Designed for high school World History students.
Causes and Effects of the Japanese Shogunate DIY Infographic - Students are asked to list the short- and long-term causes and effects of the rise of the shogunate in early Japan. This worksheet helps students learn to work with and to create infographics.
Early Japanese History and Feudalism Word Search Puzzle - Designed for high school World History students, this word search puzzle features twenty-six terms and names.
Utah Fact Sheet Notebooking Page - Here is a fun worksheet for having students research the state of Utah. Not only must students gather the information, but they must cite their sources. Topics include capital city, population, governor, number of electoral votes, agricultural products, industries, geographical features, tourist attractions, and historical information.
Click for some of our most popular web pages:
Attendance Forms

Everything from printable student sign-in sheets to a DIY attendance book.

Substitute Teaching Kit

Absent for the day? Covering for an absent teacher? We have everything you need to have a great day with plenty of effective learning.

High School World History PowerPoints

We have lots of PowerPoint presentations, all free, on most topics studied in high school World History classes.
EDUCATIONAL MATERIALS THAT MEET AND EXCEED THE
COMMON CORE
STATE STANDARDS
We are dedicated to providing quality, curated, unique educational materials for little or no cost as part of our mission to democratize education in the United States and around the world. We firmly believe that, given the tools, every student can achieve academic success and reach her or his full potential.
Created by Experienced Educators for Use by K-12 Classroom Teachers and Homeschooling Parents