| | Welcome to Student Handouts |
| --- | --- |
Free Educational Materials for K-12 Teachers and Students of All Subjects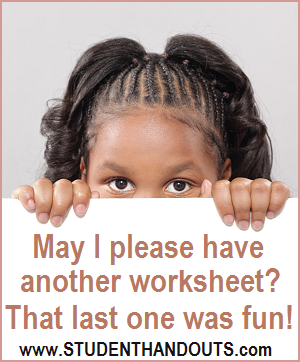 Check out some of our latest releases:
May Day Word Search Puzzle: Find and circle each term related to International Workers' Day (May Day, celebrated annually on May 1) in the puzzle.
A History of Diplomacy - An instructional package providing an overview of American diplomacy as it evolved from the colonial period through the present day. The video is presented in two parts: the first half ends with World War II, while the second half spans the period 1945 through the present day.
Paraguay Coloring and Writing Sheet - "The boy is pointing to Paraguay, a country on the continent of South America." Students read the sentence, then read, trace, and write "Paraguay."
John Smith Bellwork Worksheet - This worksheet is ideal for morning bellwork. It focuses on John Smith (ca. 1580-1631). First, students answer a test-prep DBQ question. Then, students unscramble one of John Smith's most famous statements: "He that will not work, shall not eat." Lastly, students find relevant terms in a word search puzzle.
Poetry, Prose, and Drama Venn Diagram - This worksheet has students list the major differences between poetry, drama, and prose, within a Venn diagram. In the center, students may write, "Literature," etc. Shared spaces are for listing common elements.
Click for some of our most popular web pages:
Attendance Forms

Everything from printable student sign-in sheets to a DIY attendance book.

Substitute Teaching Kit

Absent for the day? Covering for an absent teacher? We have everything you need to have a great day with plenty of effective learning.

High School World History PowerPoints

We have lots of PowerPoint presentations, all free, on most topics studied in high school World History classes.
EDUCATIONAL MATERIALS THAT MEET AND EXCEED THE
COMMON CORE
STATE STANDARDS
We are dedicated to providing quality, curated, unique educational materials for little or no cost as part of our mission to democratize education in the United States and around the world. We firmly believe that, given the tools, every student can achieve academic success and reach her or his full potential.
Created by Experienced Educators for Use by K-12 Classroom Teachers and Homeschooling Parents