| | Welcome to Student Handouts |
| --- | --- |
Free Educational Materials for K-12 Teachers and Students of All Subjects
Note
: Some of our web pages have been shuffled around. If you are having trouble locating something, please use the search box below or the tabs to the left. Our apologies for any inconvenience.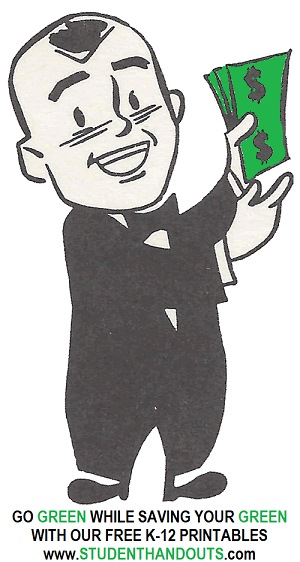 Check out some of our latest releases:
Belisarius (505-565 CE) Biography Workbook - Learn all about this famous and powerful Roman general, who sought, under Emperor Justinian of the Eastern Roman (Byzantine) Empire, to reconquer the city of Rome. This item, eleven pages in length and full of questions and activities, is part of our Biography Workbooks series. For high school World History students.
Protestant Reformation Word Search Puzzle - Free to print (PDF file) for high school World History and European History students.
War of 1812 Causes and Effects Chart Worksheet - Students are asked to list the long- and short-term causes and effects of the War of 1812. For high school World History students.
M.A.I.N. Causes of World War I Worksheet - The "MAIN" causes of the First World War were militarism, alliances, imperialism, and nationalism. This worksheet has students take notes on each of these contributing factors. For high school World History and American History students.
Clovis I of France Biography Workbook - Learn all about this famous and powerful warrior leader of the Franks, considered to be the first king of France. Clovis I bridges the historical gap between the fall of Rome, migratory period in Europe (barbarian invasions), and Dark Ages. Nine pages in length, for high school World History or European History students.
Western Europe Handwriting Practice Worksheets - Names of the countries in cursive script or print manuscript. Free to print (PDF files).
George Washington Map Worksheet - Students read information related to the life of George Washington, then color areas of the map related to events from Washington's life. This is a fun way to combine history with the acquisition of basic geographical knowledge. Grades 4-6.
Agricultural Revolution and Second Industrial Revolution History Workbook - This workbook focuses on changes that increased the production of foods and fibers, improvements to transportation (planes, trains, automobiles, etc.), and more, between 1870 and the early 1900s. This item is fifteen pages in length, full of questions, activities, and illustrations, alongside its informational text. For high school World History students.
Click for some of our most popular web pages:
Attendance Forms

Everything from printable student sign-in sheets to a DIY attendance book.

Substitute Teaching Kit

Absent for the day? Covering for an absent teacher? We have everything you need to have a great day with plenty of effective learning.

High School World History PowerPoints

We have lots of PowerPoint presentations, all free, on most topics studied in high school World History classes.
EDUCATIONAL MATERIALS THAT MEET AND EXCEED THE
COMMON CORE
STATE STANDARDS
We are dedicated to providing quality, curated, unique educational materials for little or no cost as part of our mission to democratize education in the United States and around the world. We firmly believe that, given the tools, every student can achieve academic success and reach her or his full potential.
Created by Experienced Educators for Use by K-12 Classroom Teachers and Homeschooling Parents