| Welcome to Student Handouts | |
| --- | --- |
Free Educational Materials for K-12 Teachers and Students of All Subjects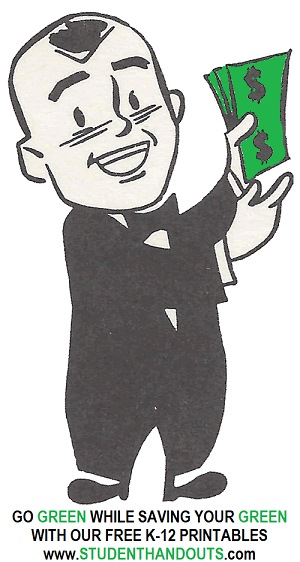 Check out some of our latest releases:

First of May Rhyme Handwriting Worksheet - Students read this classic English nursery rhyme, then trace the words, then write the words. Great for kindergarten!
United Arab Emirates Map Worksheet - Free printable worksheet for grades 7-12.
Sunny Day Handwriting Practice Worksheet - Fun print manuscript handwriting worksheet for children in kindergarten and first grade.
Art Nouveau Edwardian Childhood Images - These free downloadable vectors include a child with a balloon, children playing outdoors, animals and pets, toys such as the teddy bear and hobby horse, and so much more.
Blank Monthly Calendar Sheets - Printable by month. Days and dates listed, but no holidays, etc., so you can customize these.
Turkey Map Worksheet - Free printable geography worksheet for grades 7-12.
COVID-19 Coronavirus Teaching Tools - This page is where we're placing our pandemic-specific teaching tools and resource links.
Kitty's Forgiveness Short Story Workbook - Free to print (PDF file). Four pages in length.
The Twelve Little Princesses Workbook - Free to print (PDF file). Six pages in length. Grades two through five.
A Long Time Ago - Free printable short story with worksheets for kids (PDF files).
The Little Lone Mermaid Workbook - Free to print (PDF file), seven pages in length with questions and activities, for grades two to four.

Click for some of our most popular web pages:

Attendance Forms Everything from printable student sign-in sheets to a DIY attendance book.


Substitute Teaching Kit Absent for the day? Covering for an absent teacher? We have everything you need to have a great day with plenty of effective learning.

High School World History PowerPoints We have lots of PowerPoint presentations, all free, on most topics studied in high school World History classes.
EDUCATIONAL MATERIALS THAT MEET AND EXCEED THE
COMMON CORE
STATE STANDARDS
We are dedicated to providing quality, curated, unique educational materials for little or no cost as part of our mission to democratize education in the United States and around the world. We firmly believe that, given the tools, every student can achieve academic success and reach her or his full potential.
Created by Experienced Educators for Use by K-12 Classroom Teachers and Homeschooling Parents