FAQ: Frequently Asked Questions
Where do I register?

You don't have to register to use the teaching materials on this website. They are 99% free.

Is this really free?

Yes, this is really free.

Why are you giving this stuff away?

We decided to host a site to share our own teaching materials. We didn't want it restricted, with access available only to ourselves, in case we have an emergency and need to call a sub. It's so nice and easy being able to send a link to the teacher next door saying, "Could you print ### copies of this and tell the sub to have the kids do complete it, then go over the responses?" It's a rare occasion when that is done, but when emergencies arise, full online access to our materials is a good thing. Since these are publicly hosted, any teacher can use them. We retain copyright over the materials, but we don't charge anything for regular classroom use. Basically, this means you can print and share things from this website with your students and coworkers, but you can't bind up our stuff in a book and sell it.

You have a lot of educational materials on other subjects, but not on what I teach.

This site is run on a volunteer basis. This means that we create and post materials during our free time, and we take well-made submissions from others. Because we rely on volunteers, some subject areas are naturally going to be more sparse than other areas. We apologize if you cannot find what you want or need. All the same, check back often because we literally upload new web pages and handouts every single day.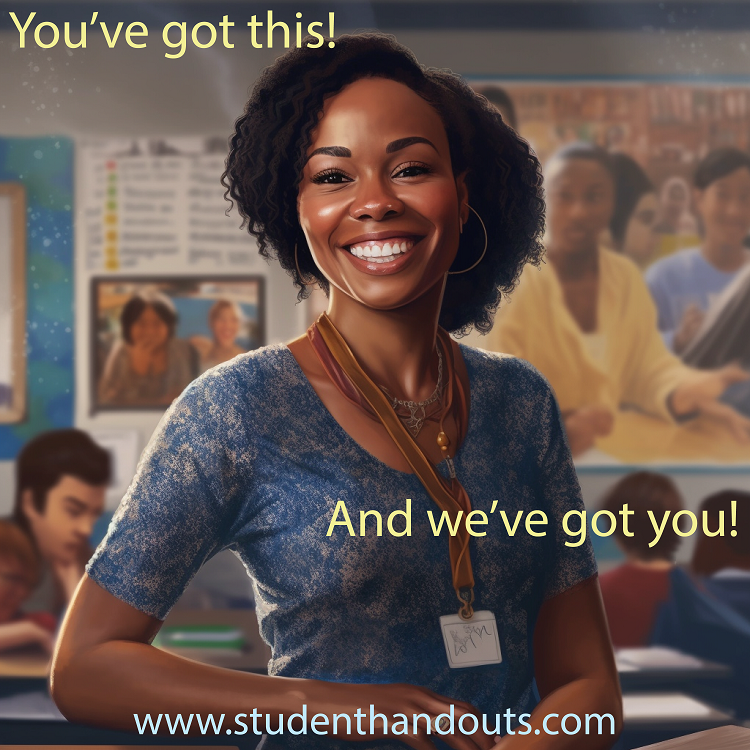 Can you host my teaching materials?

We will be happy to post your 100% original teaching materials provided that they meet our criteria. Essentially, the materials must be your own creations--not items that are copied from other sources. Additionally, you must submit them to us free and clear with no restrictions. This means that you will not be paid for your submissions. Because we do not charge for access to this site, we make virtually no money (really, just enough to pay for web hosting). In order to keep this site free for everyone, we cannot afford to pay you for your submissions. However, submitting your materials is a good idea because you can receive publication credit (we will be happy to include information on you, along with a link to your own website, etc., if you like). You will also have unrestricted access to your teaching materials from anywhere in the world 24/7.

What's the benefit of using your stuff instead of what I already have?

The benefit of an organized, permanent catalogue of handouts and other teaching materials is that you know exactly where everything is. You can access what you want when you want, without having to dig through filing cabinets, drawers, and folders. Instead of banging your head against the wall and asking, "Where did I put that book of reproducibles?" you can simply click your mouse. And of course, you can always continue using your own printables. Our materials can simply serve to supplement.

What are the pictures for?

We have hundreds of image galleries. Each picture is accompanied by informative text. These galleries can be flipped through for review purposes--the possibilities are endless. Most commonly, teachers and students copy our pictures for use in their own PowerPoint presentations.

I saw a mistake.

We are only human, so mistakes happen. If you see a mistake, do not hesitate to bring it to our attention. Drop an email to [email protected]. We will do our best to correct the mistake as soon as possible.

Who is this site for?

This site is for anyone who has use for it. Our educational materials focus on junior and senior high school, but we have numerous printables (particularly related to handwriting, both print and cursive) for elementary students. Because of our games and galleries, we also have a lot of regular visitors who come to this site for reasons completely unrelated to teaching.

If this site is free, why are there ads?

The ads that you see on this site are here to cover the costs associated with keeping this site online. We do our best to make certain that the ads are relevant to our visitors. If you find an advertisement to be inappropriate, please contact us.

Since the handouts are online, won't kids just Google the answer keys?

Surprisingly, no. Students either don't realize that the answer keys are online, or they never bother looking. If you are worried, you can always put whiteout over the website link on handouts before making copies so that your students will never know where you got the handouts.

What about copyright laws?

Visitors to this site have free noncommercial use of our materials. You can print, display, and post our work as part of your teaching - including as part of derivative works you make from our materials - but for noncommercial purposes only. Basically, you can download a PowerPoint, print copies of the PowerPoint for your students, and use the PowerPoint in your class, but you can't sell copies of the PowerPoint, nor do you have permission to remove our name from the PowerPoint when you share it with your coworkers.

The ONLY exception to removal of our company name and/or website from our items is if you have reason to suspect that your students might go to the website in search of answer keys. In this scenario, you have permission to use White-Out over our name and web address before making copies for your students.

Remember: Use common sense. We spent countless hours creating these materials, and we are letting you use them for free. Show us the respect of acknowledging where you got the materials, and don't try passing them off as your own original creations. If you would like to use our materials for commercial purposes, or you have questions regarding use of our materials, send an email. Chances are that we'll say yes.

We post only those materials and images which we have the legal right to post. If you feel that we have somehow infringed upon your copyright, please email us immediately at [email protected].

I want to use one of your images or other items in a book or report that I am publishing.

If this is done for commercial purposes, or your organization (university, company) requires legal paperwork, please go through a company like the Copyright Clearance Center.

If you are using the item for non-profit use, simply cite our site as the source using whatever format (ELA, MLA, etc.) that you use for other sources. You would use this, for example, if you are a student placing one of our maps or pictures in your school report.


I posted a link to your site on my website. Will you reciprocate?

We are happy to post links to appropriate sites that teachers may find useful. We have an entire page devoted to links here. If you would like your website to be included, please email us with the name of your site and a brief description. Non-commercial sites are preferred.

I operate a commercial site and would like to buy advertising space on your site. Can this be arranged?

We sell ad space only through Google Adsense and BSA. You can read our ad placement policy here. Please be aware that we have no interest in posting paid links to any other sites.

Will you review my product and post a review on this website or on your blog?

Yes, we are happy to post unbiased reviews of products related to our site's content and relevant to our audience (books, educational toys, school supplies, etc.--anything classroom teachers and homeschooling parents use). Email us at [email protected] for our mailing information.

Advertising on studenthandouts.com

You may purchase advertisement space on this site through BSA here. Please do not contact us for direct ad placements as we do not sell ad space directly. Ad space is available only through BSA or via your AdWords account.

Meet Our Staff