Free Printable Handwriting Practice Worksheets in Print Manuscript and Cursive Script Fonts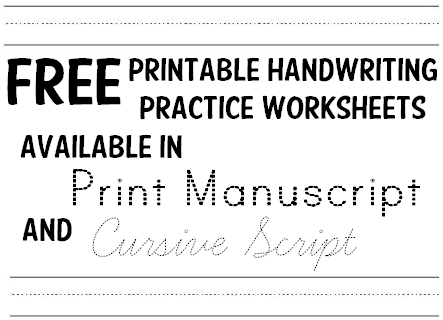 Even in this digital age, the art of handwriting has not lost its importance in education. The manual dexterity taught when one writes is useful throughout life. And of course, the physical task of putting pen or pencil to paper, is shown to instill good spelling much more so than mere typing.
Many schools now require that students entering kindergarten be able to write the print manuscript alphabet, as well as their own names. This calls for free handwriting worksheets!
While cursive script writing took a backseat for several years, its usefulness has been rediscovered, and students in the upper elementary grades are again learning how to write in cursive. We offer numerous free printable handwriting worksheets for teaching your child or student this almost forgotten form of penmanship!
Below, you will find a large assortment of various free handwriting practice sheets which are all free to print. Some of the icons link to new pages of worksheets, such as the famous quotes. Others are basic alphabet tracing. Whether you are a classroom teacher or a parent teaching kids to write at home, you'll find plenty of great free handwriting printables here.
| | | | | | | | | | | |
| --- | --- | --- | --- | --- | --- | --- | --- | --- | --- | --- |
| | | | | | | | | | | |
| | ABCs: Printable Sample Print Alphabet | | ABCs: Practice English Alphabet Handwriting | | Individual Children's Names Handwriting Practice | | Alphabet Writing Practice Workbook | | Numbers Writing Practice Workbook | |
| | | | | | | | | | | |
| --- | --- | --- | --- | --- | --- | --- | --- | --- | --- | --- |
| | | | | | | | | | | |
| | Handwriting Practice Paper with Dashed Center Line | | Primary Dashed Writing Paper with 1" Lines | | ABCs: Printable Sample Cursive Script Alphabet | | Cursive Script Alphabet with Instructional Arrows | | ABCs: Printable Dashed Cursive Script Alphabet Practice | |
| | | | | | | | | | | |
| --- | --- | --- | --- | --- | --- | --- | --- | --- | --- | --- |
| | | | | | | | | | | |
| | Days of the Week Sheets in Cursive and Print | | Months of the Year Sheets in Cursive & Print | | Presidents of the United States | | Back to School | | Basic Etiquette Phrases | |
| | | | | | | | | | | |
| --- | --- | --- | --- | --- | --- | --- | --- | --- | --- | --- |
| | | | | | | | | | | |
| | Shapes: Color and Print Square, Circle, and Triangle | | George Washington Coloring and Handwriting | | Important Events | | Abraham Lincoln Coloring and Handwriting Sheet | | Proverbs for Children 24-Page Copywork Book | |
| | | | | | | | | | | |
| --- | --- | --- | --- | --- | --- | --- | --- | --- | --- | --- |
| | | | | | | | | | | |
| | Moon Phases Handwriting Practice Worksheet | | Tyrannosaurus Rex Coloring and Writing Sheet | | Animal ABCs Coloring Book with Handwriting | | Shapes: Color and Print Rectangle, Circle, and Triangle | | Ovid (Ancient Rome) Quotes in Print or Cursive | |
| | | | | | | | | | | |
| --- | --- | --- | --- | --- | --- | --- | --- | --- | --- | --- |
| | | | | | | | | | | |
| | Early to Bed by Ben Franklin | | Cursive: "I love doing all of my homework every night." | | Cursive: "The quick brown fox jumped over the lazy dogs." | | Cursive: "What is your name? My name is _____." | | 50+ Famous Quotes in Print and Cursive | |
| | | | | | | | | | | |
| --- | --- | --- | --- | --- | --- | --- | --- | --- | --- | --- |
| | | | | | | | | | | |
| | Polite Refusals Handwriting Worksheet in Print or Cursive | | Education in Ancient Greece Worksheet for Kids | | Romantic Composers | | Wise Words about Wealth Handwriting Worksheet | | Nature Quotes Copywork Workbooks | |
| | | | | | | | | | | |
| --- | --- | --- | --- | --- | --- | --- | --- | --- | --- | --- |
| | | | | | | | | | | |
| | Words of Wisdom Cursive Copywork Workbooks | | Jefferson Quotes Copywork Workbooks | | Golden Link of Friendship Cursive Copywork Workbook | | Shakespeare's 18th Sonnet Cursive Copywork Workbook | | A "Thank You" Day Poem Cursive Writing Printable | |