Project XX: End of the Trail (1965)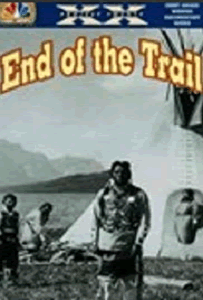 Length:
52 minutes
Age appropriateness:
This documentary film is not officially rated in the United States. It is safe for all students in grades five and up.
Creators and stars:
NBC News Productions, Shanachie Entertainment Corporation, Claire Rosenstein, Daniel W. Jones, Donald B. Hyatt, James Pallan, Philip Reisman, Jr., Rhoda Grady, Robert L. Garthwaite, Robert Russell Bennett, Silvio d'Alisera, Walter Brennan
Accuracy:
The content of
Project XX: End of the Trail
is historically accurate. Although the narration is very opinionated, this is not a drawback. Walter Brennan's voiceover is highly informative, as well as entertaining. The footage is largely comprised of rarely seen historical photographs. Quotes from white settlers, Native Americans, and politicians abound.
Review:
End of the Trail
chronicles the lives of Native Americans after their settlement on the Great Plains, west of the Mississippi River, through their eventual conquest during the Indian Wars of the late nineteenth century. The narration is informative, lively, and entertaining. The hundred+ images are rare and serve to illustrate the narration very well.
End of the Trail
is recommended for introducing this topic to junior or senior high school students. Vocabulary terms, names, and questions are provided below.
Vocabulary terms and names: Black Hills, buffalo, civilization, dispossessed, generosity, George Custer, Great Plains, Homestead Act, Indian boarding schools, Little Big Horn, missionaries, misunderstanding, prairie, property, railroads, reservations, savages, treaty, weaponry

Review and discussion questions: (1) Name four tribes of the Great Plains. (2) Why did white settlers travel to California in 1849? (3) Who brought horses to the Americas? (4) Describe the importance of buffalo in the lives of Plains Indians. (5) Compare and contrast the cultural differences between Native Americans and European Americans. (6) Describe the Homestead Act. (7) The term "spotted buffalo" refers to what? (8) Why did tensions mount between Native Americans and white settlers? (9) Explain the importance and meaning of Native American dances. (10) How did whites view American Indians in the 1870s? (11) What was life like on early reservations? (12) Describe the events of June, 1876 (Custer's last stand at the Little Big Horn).
End of the Trail Movie Review Publication Date for Citation Purposes: June 30, 2012