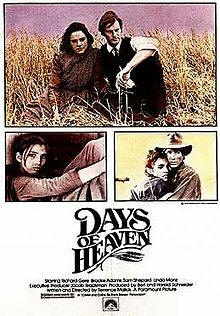 Length:
94 minutes (1 hour, 34 minutes)
Age appropriateness:
Days of Heaven
is officially rated "PG" in the United States. The film has a little bit of profanity ("sh*t," "*ss"), but no nudity and very little violence (there are two murders, but neither of them shown in any gory detail). This film is safe for students in grades seven on up, in or out of a classroom setting.
Creators and stars:
Paramount Pictures, Bert Schneider, Brooke Adams, Doug Kershaw, Ennio Morricone, Gene Bell, Harold Schneider, Haskell Wexler, Jack Fisk, Jackie Shultis, Jacob Brackman, Linda Manz, Nestor Almendros, Richard Gere, Richard Libertini, Robert J. Wilke, Sam Shepard, Stuart Margolin, Terrence Malick, Timothy Scott
Accuracy:
Days of Heaven
offers a very realistic portrait of life for "everyday people" in the United States circa 1916. Factory life is brutal, farm work is hard, kids smoke, people fall on hard times, etc. The only thing "romanticized" is the beautiful cinematography.
Review:
Days of Heaven
took three years to complete. While the story was panned as being too thin, the film won an Academy Award for cinematography. From an educational standpoint, the real beauty of this movie is the slice of life that it gives.
Director/Writer Terrence Malick presents (authentically) virtually every type of transportation from the time period (
circa
1916)--trains, cars, airplanes, and even a motorcycle with a sidecar. The farm equipment--tractors, trailers, threshers--is authentic to the time period. Watching this film, students get a good appreciation for the tangible transition to an industrialized society.
It can be hard for students to visualize and understand that not everyone had a car simply because cars had been invented. In this film, kids see cars, but realize that most people could not afford them, and so rode trains or horses. There is even an early airplane, as well as doughboys leaving for World War I. This movie gives history teachers plenty of opportunities to hit pause and raise talking points.
"Yes, that was President Woodrow Wilson's train traveling through the countryside. Before television, train trips were a common way for public figures to be seen by the people. People would know in advance that someone like the president was coming through town, and would line the track, waving flags. The phrase
whistle-stop tour
is still used, even though politicians no longer campaign using train travel."
Vocabulary terms and names: agriculture, airplane, Chicago, con artist, factory, farmer, locusts, migrant laborers, President Woodrow Wilson, rural, Texas Panhandle, urban, World War I

Review and discussion questions: (1) Why does Bill leave Chicago? (2) What type of work do Bill and Abby do on the farm when they first arrive? (3) Why do Bill, Abby, and Linda remain on the farm after the harvest? (4) Why does Abby marry the farmer? (5) What is life on the farm like for Bill, Abby, and Linda after the wedding? (6) How does the farmer die? (7) How does Bill die? (8) Would you have liked to live in the United States during this time? Why or why not? (9) Describe three types of transportation shown in the film. (10) Locate Chicago, Illinois, and the Texas Panhandle on a map.
Days of Heaven Movie Review Publication Date for Citation Purposes: June 29, 2012