Sacco and Vanzetti (2006)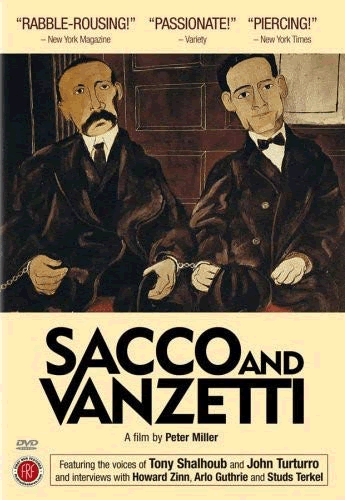 Length: 81 minutes (1 hour, 21 minutes)

Age appropriateness: The documentary film Sacco and Vanzetti is not officially rated in the United States. The film is safe viewing for all ages. Based on the complex content, it is most appropriate for students of high school age and older.

Creators and stars: Alejandro Anreus, Amy Carey Linton, Anton Coppola, Arlo Guthrie, David Felix, David Kaiser, Diana Linden, Fernanda Sacco, Giuliani Montaldo, Greg Linton, Henry Fonda, Howard Zinn, Jeanette Parmenter Murphy, Jesse Crawford, Joe Galvani, John T. LaBarbera, John Turturro, Lincoln Robbins, Mary Anne Trasciatti, Michael Topp, Nicole Opper, Nunzio Pernicone, Peter Miller, Ralph DiGia, Stephen McCarthy, Tom Roche, Tony Shalhoub

Accuracy: This documentary uses a variety of interviewees, including expert historians of the subject. It presents an unbiased and thorough look at the political leanings of Sacco and Vanzetti prior to their infamous murder trial.



Review: Sacco and Vanzetti is an interesting look at the infamous 1920 criminal court case that many historians believe exemplifies American political intolerance and anti-foreigner sentiments in the early twentieth century. Interviewees include historians, the daughter of one of the murder victims, friends and family of Sacco and Vanzetti, and others.

As a teaching tool, Sacco and Vanzetti provides an accurate overview of key events in Sacco and Vanzetti's lives and the trial itself. For educators planning to use this documentary with students, we recommend introducing the topic first, providing background information on the popular political ideologies of the time period (communism, socialism, anarchism). Students without at least some degree of understanding of these -isms may have trouble following parts of the documentary. Important names and vocabulary terms, as well as review and discussion questions, are provided below.
Update: On January 16, 2013, Richard Newby, Associate Professor Emeritus of English at Illinois State University, and author of Kill Now, Talk Forever: Debating Sacco and Vanzetti (AuthorHouse, 2008), wrote to us with some of his thoughts regarding this film. With his kind permission, we share these thoughts with you:

Student Handouts misleads in this online claim: "As a teaching tool, 'Sacco and Vanzetti' provides an accurate overview of key events in Sacco and Vanzetti's lives and the trial itself." You refer, of course, to Sacco and Vanzetti, the 2006 documentary film directed by Peter Miller. In fact, Peter Miller and Howard Zinn have long been persistent champions of Sacco and Vanzetti.

Peter Miller gives little attention to the five-volume 1928 publication by Henry Holt: Transcript of the Record of Nicola Sacco and Bartolomeo Vanzetti in the Courts of Massachusetts and Subsequent Proceedings, 1920-27.



The Peter Miller film does not present, in the words of Chief Justice John Roberts, "the unfettered exchange of ideas." A respectable exchange is found in books on the Sacco-Vanzetti case by Felix Frankfurter, Upton Sinclair, Osmond K. Fraenkel, Herbert B. Ehrmann, Eugene Lyons, Michael Musmanno, Louis G. Joughin/Edmund M. Morgan, Robert H. Montgomery, Francis Russell, David Felix, Robert S. Feuerlicht, Katherine A. Porter, William Young, David E. Kaiser, Paul Avrich, John F. Neville, Michael M. Topp, Bruce Watson. And attention must be paid to three ballistics tests and reports on these tests in professionaljournals. Relevant as well is the 1986 judgment on the Sacco-Vanzetti case by Judge Charles E. Wyzanski, Jr. Frankfurter praised and promoted Wyzanski.

We fully support the free exchange of ideas, and contrary to what some may imagine, love hearing from informed readers like Professor Newby. We're adding his book to our list of requests at the local library. If you have a well-informed opinion to share regarding a historical film or book we've reviewed, even one we have yet to cover, please don't hesitate to contact us. We are happy to share well-informed rebuttals, corrections, and supplemental commentary.



Review and discussion questions: (1) What led Nicola Sacco and Bartolomeo Vanzetti to immigrate to the United States? (2) What was life like for Italian immigrants in the United States during the 1920s? (3) Describe the political beliefs of Sacco and Vanzetti. (4) Why were Sacco and Vanzetti arrested? (5) In the Bridgewater trial, how were defense witnesses treated by the prosecution? (6) How and why did the first defense attorney, Fred Moore, link Sacco and Vanzetti to the Red Scare? (7) What conclusion was reached by the Lowell Commission? (8) Do you believe that Sacco and Vanzetti received a fair trial? Explain your answer. (9) How did the Sacco and Vanzetti trial impact the arts in the twentieth century? (10) Is this case relevant today? Why or why not?

Vocabulary terms and names: Alessandro Berardelli, Alvan T. Fuller, anarchism, Bartolomeo Vanzetti, Carlo Tresca, Celestino Madeiros, civil liberties, Fred Moore, Frederick Katzmann, Frederick Parmenter, injustice, Lowell Commission, Luigi Galleani, Michael Stewart, Nicola Sacco, political extremism, prejudice, protest, Red Scare, rights of immigrants, South Braintree, spectacle, Webster Thayer, William Thompson
Sacco and Vanzetti Movie Review Publication Date for Citation Purposes: December 11, 2012