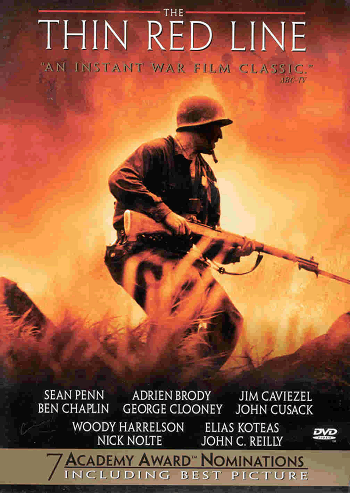 Length: 170 minutes (2 hours, 50 minutes)

Age appropriateness: Rated "R" in the United States due to graphic war scenes. The only nudity comes from some shots of soldiers skinny-dipping, but the shots are taken at such a distance that nothing is really visible. This movie can safely be watched by mature high school students with parental permission.

Creators and stars: Adrien Brody, Arie Verveen, Ben Chaplin, Dash Mihok, Elias Koteas, George Clooney, James Jones, Jared Leto, Jim Caviezel, John C. Reilly, John Cusack, John Dee Smith, John Savage, John Travolta, Kirk Acevedo, Mark Boone Junior, Matt Doran, Miranda Otto, Nick Nolte, Nick Stahl, Norman Patrick Brown, Paul Gleeson, Penelope Allen, Sean Penn, Simon Billig, Terrence Mallick, Thomas Jane, Travis Fine, Will Wallace, Woody Harrelson

Accuracy: This film is based on a 1962 autobiographical novel by James Jones, based on the experiences of American soldiers at Guadalcanal in the Pacific during World War II. The one major "uh-oh" is when the wife of Ben Chaplin's character informs him that she has fallen in love with an Air Force captain. The Air Force was not organized until 1947, after WWII; however, this same inconsistency appears in Jones's novel.

Review: If I were reviewing this movie based on cinematography, acting, and method of storytelling, it would easily get a 9/10 rating. However, reviewing this film for its effectiveness in a history classroom, it gets a 6/10 rating. This movie is simply too long to use in a classroom. Additionally, while this movie is set during World War II (Guadalcanal), the film's focus is so much on the inner lives of the characters that the movie could be set at almost any time, during almost any war. In other words, teenagers won't walk away from this movie any more knowledgeable about World War II than before they watched this movie.

All the same, this movie accurately portrays the harsh realities of war. Some students might enjoy watching it in their free time.
Miscellaneous: The Thin Red Line was nominated for seven Academy Awards. Both Bill Pullman and Lukas Haas were cut from the film's final edit, while future Oscar-winner Adrien Brody's part was reduced from a leading role to a minor role. You can see more of these actors in the extended DVD version of the movie. Click here to enlarge the official film poster.

Discussion Questions: Are there any traditional heroes in this film? How does the infidelity of Bell's wife contrast with traditional images of the "girl back home"? What do you believe is this film's central message about war?
The Thin Red Line Movie Review Publication Date for Citation Purposes: May 20, 2012