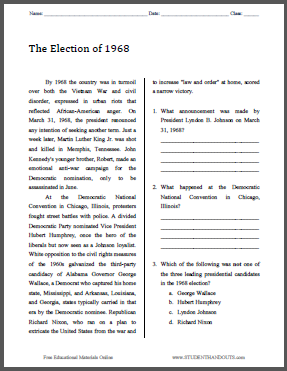 By 1968 the country was in turmoil over both the Vietnam War and civil disorder, expressed in urban riots that reflected African-American anger. On March 31, 1968, the president renounced any intention of seeking another term. Just a week later, Martin Luther King Jr. was shot and killed in Memphis, Tennessee. John Kennedy's younger brother, Robert, made an emotional anti-war campaign for the Democratic nomination, only to be assassinated in June.

At the Democratic National Convention in Chicago, Illinois, protesters fought street battles with police. A divided Democratic Party nominated Vice President Hubert Humphrey, once the hero of the liberals but now seen as a Johnson loyalist. White opposition to the civil rights measures of the 1960s galvanized the third-party candidacy of Alabama Governor George Wallace, a Democrat who captured his home state, Mississippi, and Arkansas, Louisiana, and Georgia, states typically carried in that era by the Democratic nominee. Republican Richard Nixon, who ran on a plan to extricate the United States from the war and to increase "law and order" at home, scored a narrow victory.

Answer Key: (1) He had no intention of seeking another term. (2) Protesters fought street battles with police. (3) C - Lyndon Johnson. Click here to print.
Text courtesy of the U.S. State Department, Bureau of International Information Programs, 2005