Photographic Memory (2011)
| | |
| --- | --- |
| Release date: 2011 | Length: 87 minutes (1 hour, 27 minutes) |
Age appropriateness:
Photographic Memory
(2011) is not officially rated in the United States. It is a documentary film which should be safe for all teenagers. This movie contains brief references to sex. There are a few shots (simple glimpses) of some old black-and-white nude photos, but nothing particularly risqué.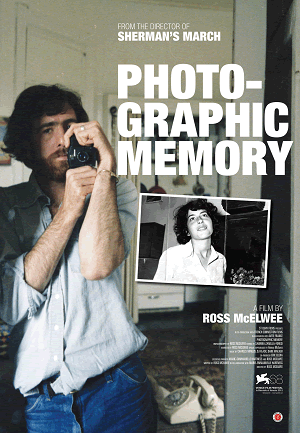 Creators and stars:
First Run Features
, Adrian McElwee, Charles Mingus, Dane Walker, D.J. Flack, Mariah McElwee, Marie Hartness, Ross McElwee, Sabrina Zanella-Foresi.
Accuracy:
This documentary film contains Ross McElwee's voiceover narration along with his own footage, both recent (for this movie) and archival. In addition to McElwee's own thoughts and memories, there are interviews with Adrian McElwee, Maud Corbel, and others.
Review:
In summary: (1) Man can't relate to his son. (2) Man asks himself, "Was I ever like that?" (3) Man retraces his own life during his early 20s in order to find out. "Photographic Memory" is about this journey of self-discovery, and features Ross McElwee traveling back to St. Quay-Portrieux (in Brittany, France) to find the photographer he once worked for (Maurice) and the woman he dated (Maud) there.
"Was I ever that bad?" is a question faced by many parents of adolescents and young adults. As "grown-ups," we often find it hard to relate to the younger versions of ourselves who haven't quite got everything figured out yet. In "Photographic Memory," it makes for an interesting film premise.
This film's strongest points are its use of archival scenery and other photographs taken by McElwee in the 1970s contrasted against modern images, as well as McElwee's reunion with romantic interest Maud Corbel. In fact, the women's (the widow of Maurice and Maud) perspectives on past events, contrasted against those of Ross, would have made a more interesting film on their own.
This film's weakest point is its excessive use of images of Adrian McElwee (both as a child and as a teenager). As a father, it makes sense for Ross McElwee to watch and rewatch images of his son and ask himself, "Whatever happened to this sweet young boy?" For viewers, however, it gets tedious. Likewise, it is painful to watch Adrian emotionally withdraw himself from a father who seems to follow the boy around with a camera 24 hours a day. Worst, because these are real people, there is no resolution to the father-son relationship on film. Viewers are left with a father who recognizes he was kind of "that bad," and a young man who continues to smoke pot and consume alcohol while engaging in dangerous activities.
In short, this is a film with two separate story lines--Ross McElwee's relationship with his son, and Ross McElwee's youthful exploits in France--both of which, while interesting, are not done satisfactorily. All the same, "Photographic Memory" is worth watching for the ability it gives viewers to recognize that our own ideas of our past, younger lives are warped by our own egos and fading memories, that we might not have been so much more mature than our children as we imagine, and that others' views of our younger selves may be just as valid as our own. Click
here
to purchase.
| | | | | | | | | | | |
| --- | --- | --- | --- | --- | --- | --- | --- | --- | --- | --- |
| | | | | | | | | | | |
| | Ross McElwee, 20s | | Adrian McElwee | | Ross McElwee, Today | | Maud Corbel | | Official Movie Poster | |
| | | | | | | | | | | |
| --- | --- | --- | --- | --- | --- | --- | --- | --- | --- | --- |
| | | | | | | | | | | |
| | | | Adrian McElwee | | | | Ross & Adrian McElwee | | | |
Photographic Memory Movie Review Publication Date for Citation Purposes: September 19, 2012