| | |
| --- | --- |
| Release date: 2012 | Length: 46 minutes |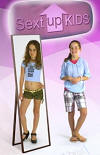 Age appropriateness:
"Sext Up Kids: How Growing Up in a Hyper-Sexualized Culture Hurts Our Kids" contains profanity, brief female nudity, and highly sexualized images. It is not officially rated in the United States, originally airing on Canadian television. Because of the images presented, this documentary may be difficult to play in a classroom. Ironically, it is young people who may benefit the most from seeing this film.

Creators and stars:
Ann-Marie MacDonald, CBC, Gail Dines, Jac Gautreau, Jesse Miller, John Collins, Kim Benson,
Laci Green
, Lucia O'Sullivan, Marcel Gallant, Maureen Palmer, Ness Fraser, Paddy McCallum, Peggy Orenstein, Ralph DiClemente, Rick LeGuerrier, Saleema Noon, Shannon Nering, Susannah Stern, Timothy M. Hogan
Recommendations:
If you are planning on showing this film to students, we strongly advise that girls and boys be separated during viewing, to avoid awkwardness and to facilitate open and honest discussions.
You can watch the video below or
here
.
Review:
This is by far the best documentary I've seen to date on the sexualization of young girls in the United States and Canada, and around the globe. Everything parents and teachers must know about pop culture's transition into porn culture is explained in a straight-up, no-holds-barred presentation. From toddlers to teenagers, the filmmakers effortlessly explain the cultural and media messages that lead young ladies to dress provocatively, pose for pornographic photos, and experiment sexually.
"Little girls are strutting their stuff before they even have any stuff."
We highly recommend that every teacher watch this film. We also highly recommend that every parent, of a son or a daughter, watch this film. Parents of girls need to understand what popular culture is pushing on their daughters. Parents of boys need to understand the false notions about girls that popular culture is teaching their sons.
"When girl meets boy, it's all about the boy."


The sexualization of little girls is explained as part of the widespread "KAGOY" (Kids Are Getting Older Younger) marketing strategy. That is, at twelve, a girl dreams of being sixteen, so marketers sell 12-year-old girls clothing worn by 16-year-old girls. But the 16-year-old girls want to be 21, and are wearing what 21-year-old girls are wearing. Notions of what clothing is appropriate to wear are given by pop culture. In the pop culture landscape, females must be sexy--the sexier the better--in order to get noticed (examples include Miley Cyrus and Katy Perry). Pop culture images show scantily clad women working to please men.
Online, cheap (or free) pornography is rampant. From 70-80% of teenage boys watch, or have watched, internet pornography. Inexperienced, pornography is where teenage boys are gaining their understanding of sex. The vast majority of pornographic films depict eager women enjoying anything and everything that is done to them, a far cry from reality. Yet, because these are the images introducing young men to sex, teenage boys are led to believe that this behavior is standard; young women and girls are expected to behave similarly.
Pop Culture ---> Porn Culture


The result? Pop stars dress like porn stars. Teenage girls dress like pop stars. Young women are then expected to behave like pornographic film actresses. "Sext Up Kids" does an excellent job of explaining the psychological motivations that cause this to happen.
Positive Outreach


"Sext Up Kids" is not all doom and gloom, nor is it overly moralistic in tone. None of th
e speakers berates teenage girls for doing what they're doing; instead, the focus is on educating young people and parents to what this behavior is, what negative consequences it can have, and how it can be curtailed.
Movie Review Publication Date for Citation Purposes: May 28, 2013.