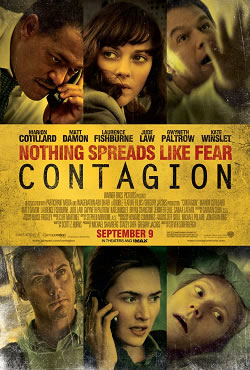 Feature film. 2011. Rated PG-13. Length: 106 minutes (1 hour, 46 minutes).

Creators and Stars: Anna Jacoby-Heron, Bryan Cranston, Chin Han, Demetri Martin, Elliott Gould, Gwyneth Paltrow, Jennifer Ehle, John Hawkes, Josie Ho, Jude Law, Kate Winslet, Laurence Fishburne, Marion Cotillard, Matt Damon, Sanaa Lathan, Sanjay Gupta, Scott Z. Burns, Steven Soderbergh.

Vocabulary Terms and Names: antibodies, CDC (Centers for Disease Control and Prevention), conspiracy theory, contagion, epidemic, FEMA (Federal Emergency Management Agency), health department, Hong Kong, immunity, laboratory, Macau, mutate, pandemic, quarantine, R-0 (R-naught), spread, transmisson, vaccine, virus.

Contagion is an entertaining big-budget film that gives Hollywood's most scientifically accurate depiction of a major pandemic to date. It is safe viewing for all kids in junior high and up. This movie is perfect for health and science classes studying the outbreak and spread of disease. There are also cross-curricular opportunities for studying the geographic spread of disease.

Click here to view the official film poster. Click here to purchase the movie.
Contagion (2011) film review and guide publication date for citation purposes: January 17, 2014.