Eddie: The Sleepwalking Cannibal (2012)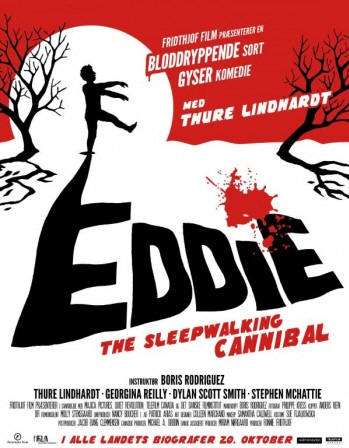 Length: 90 minutes (1 hour, 30 minutes)

Age Appropriateness Rating: Eddie: The Sleepwalking Cannibal is not yet officially rated in the United States (NR). Based on its level of gore and violence, it should easily get an "R" rating. There are virtually no references to sex or nudity, but there is a bit of swearing. The real "R" factor here is the violence, which you probably guessed from the film's title. This film will make for fun personal viewing for mature teenagers (with parental supervision/permission).

Creators and Stars: Fridthjof Film, Quiet Revolution Pictures, Telefilm Canada, Alain Goulem, Alex Epstein, Alexis Maitland, Boris Rodriguez, Dylan Smith, Georgina Reilly, Jon McLaren, Jonathan Rannells, Paul Braunstein, Peter Michael Dillon, Stephen McHattie, Thure Lindhardt

Basic Plot: Lars Olafssen (played by Thure Lindhardt, pronounced tore as in "I tore into that bag of popcorn during the movie") is a Danish artist who has lost his ability to paint. He takes a teaching job at Koda Lake Art School in a lowly-populated Canadian town. Through a series of events, Lars becomes caretaker to Eddie, the nephew of the school's late benefactress. It turns out that, due to childhood trauma, Eddie kills and eats animals and people in his sleep. Lars discovers that witnessing Eddie's murderous eating binges reignites his ability to paint.

Review: Although a comedy, this movie is not for the faint-hearted. There is plenty of gore. But it's not the sort of gore you typically see in horror films. That is, there is no build-up to the horror. In most scary movies, we see the action play out from the point-of-view of the victims. In Eddie: The Sleepwalking Cannibal, the audience is with Eddie as he stalks his prey. As gross as it gets (and it gets pretty darn gross), it's funny, and (surprisingly) without the gratuitous, sexually-driven violence of most scary movies.

This film is a comedic look at the notion that art goes hand-in-hand with human suffering (throughout the film, car radios are tuned to public radio playing classical opera, complete with intros about the tragedy of each scene for the proceeding arias). Lesley, another teacher at the school, creates beautiful sculptures without any violent inspiration, and her skill inspires Lars to up the ante for himself. So does all great art require suffering? In the end, is Eddie the cannibal the real monster, or does that title go to Lars, who uses Eddie's problem for his own gain?

I would recommend this film for recreational viewing by mature teens who enjoy art. It's a fun hour-and-a-half lesson on learning not to take art too seriously. If your teen is "into art," he/she should really "get it."
| | | | | | | | | | | |
| --- | --- | --- | --- | --- | --- | --- | --- | --- | --- | --- |
| | | | | | | | | | | |
| | Thure Lindhardt as Lars | | Dylan Smith as Eddie | | Paul Braunstein as Verner | | Official Movie Poster | | Boris Rodriguez, Director | |
Miscellaneous: The "flesh" eaten by Eddie in this film is actually, according to actor Dylan Smith, rather tasty sausage. For Smith, the real challenge was running around in his underwear in -24 (Celsius) temperatures. Actress Georgina Reilly had the hardest time keeping a straight face during the scene where Lars (Thure Lindhardt) reveals to her character that he has caught Eddie killing and eating rabbits.

According to director Boris Rodriguez, Eddie started out as a werewolf, but the character became a cannibal by the time filming started; rewrites were so common that actors were often greeted with a new version of the script each day.

Movie still photos below by Lois Siegel.
Eddie the Sleepwalking Cannibal Movie Review Publishing Date for Citation Purposes: April 22, 2012