| | | | | | | | | | | |
| --- | --- | --- | --- | --- | --- | --- | --- | --- | --- | --- |
| | | | | | | | | | | |
| | Happy Holidays Coloring and Writing Sheet | | A Visit from St. Nicholas ('Twas the Night before Christmas) | | Father Christmas Coloring Page | | Christmas Crossword Puzzle | | "All I Want for Christmas" Bubble Map Organizer | |
| | | | | | | | | | | |
| --- | --- | --- | --- | --- | --- | --- | --- | --- | --- | --- |
| | | | | | | | | | | |
| | Christmas Bells Coloring Page | | Christmas Unscramble Worksheet | | Santa Claus Counting Worksheet | | Christmas Bells Coloring and Writing Sheet | | Christmas Word Search Puzzle | |
| | | | | | | | | | | |
| --- | --- | --- | --- | --- | --- | --- | --- | --- | --- | --- |
| | | | | | | | | | | |
| | 'Twas the Night before Christmas Gap Reading Quiz Game | | Letter to Santa Claus Template for Grades K-2 | | Christmas Vocabulary Terms Flashcards | | Crooked Christmas Tree Coloring and Writing Sheet | | Gingerbread House Coloring and Writing Sheet | |
| | | | | | | | | | | |
| --- | --- | --- | --- | --- | --- | --- | --- | --- | --- | --- |
| | | | | | | | | | | |
| | Madonna and Child Coloring Sheet | | Interactive Christmas Energy Saver Game for Grades 1-6 | | Dove of Peace Coloring and Writing Sheet | | Merry Christmas Coloring and Writing Sheet | | Candy Cane Coloring and Writing Sheet | |
| | | | | | | | | | | |
| --- | --- | --- | --- | --- | --- | --- | --- | --- | --- | --- |
| | | | | | | | | | | |
| | "Silent Night" Carol Gap Text Game for Grades 1-4 | | Candle Coloring and Writing Sheet | | Perfect Christmas Morning Lined Writing Prompt | | Snowman Coloring and Writing Sheet | | Musical Angel Coloring and Writing Sheet | |
| | | | | | | | | | | |
| --- | --- | --- | --- | --- | --- | --- | --- | --- | --- | --- |
| | | | | | | | | | | |
| | Christmas Clip Art | | Angel Coloring and Writing Sheet | | Holiday Gifts Coloring Page | | Christmas Head-scratchers Worksheet | | Christmas To Be Verb Worksheet for Grade One | |
| | | | | | | | | | | |
| --- | --- | --- | --- | --- | --- | --- | --- | --- | --- | --- |
| | | | | | | | | | | |
| | A Christmas Carol by Charles Dickens | | Christmas Unwrapped Video Workbook | | How to Write Thank You Notes Workbook | | | | | |
Incorporating Christmas traditions into classroom teaching while remaining inclusive requires thoughtful planning to ensure that all students, regardless of their cultural or religious backgrounds, feel respected and included. Here are some ideas for teachers to create an inclusive holiday experience.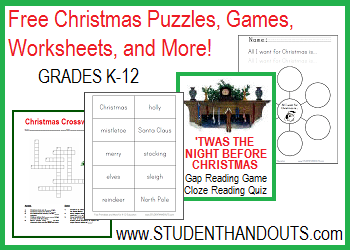 Teach the Cultural and Historical Context: Begin by educating students about the cultural and historical aspects of Christmas. Explain its origins, including its ties to Christianity and various global celebrations. This provides context and fosters cultural awareness.

Acknowledge Other Holidays: Recognize that Christmas is not the only holiday celebrated during the winter season. Acknowledge and teach about other holidays such as Hanukkah, Kwanzaa, Diwali, and others. Compare and contrast the traditions and symbols of these celebrations.

Diverse Literature: Incorporate diverse literature that reflects different holiday traditions. Read books and stories that showcase various cultural celebrations during the winter months. Discuss the similarities and differences.

Arts and Crafts: Encourage students to create arts and crafts projects that highlight a range of cultural celebrations. Provide materials for making decorations related to various holidays. For example, create menorahs for Hanukkah or lanterns for Diwali.

Music and Songs: Include songs and music from different cultural traditions in your holiday activities. Singing carols from different cultures or learning holiday songs in various languages can be both educational and fun.

Food and Recipes: Explore traditional holiday foods from different cultures. You can discuss the significance of these foods and even have a "food day" where students bring in dishes from their cultural backgrounds.

Guest Speakers: Invite guest speakers or parents from diverse cultural backgrounds to share their holiday traditions and stories. This provides firsthand insights and promotes cultural understanding.

Holiday Traditions Around the World: Create a "Holidays Around the World" project where students research and present on different holiday traditions from various countries. They can share what they've learned with the class.

Acts of Kindness: Focus on the spirit of giving and kindness associated with the holiday season. Encourage students to participate in charitable activities or acts of kindness that benefit their local community.

Inclusive Decorations: Decorate the classroom with inclusive and culturally diverse decorations that represent various holidays. Avoid overemphasizing one particular holiday.

Holiday Cards: Have students create holiday cards that express goodwill and celebrate the season without reference to any specific holiday.

Respect Student Choices: Allow students to opt out of holiday-related activities if they or their families are not comfortable participating. Respect their choices and provide alternative assignments or activities.

Language and Vocabulary: Teach students the appropriate and respectful way to greet their peers and teachers during the holiday season. Encourage them to use inclusive language, such as "Happy Holidays" or "Season's Greetings."

Open Dialogue: Create an open and inclusive classroom environment where students feel comfortable discussing their own holiday traditions and experiences. Encourage questions and respectful discussions.

Parent Involvement: Engage with parents and guardians to understand their preferences and cultural backgrounds. Seek their input and support in creating an inclusive classroom environment.

Remember that the goal is to promote cultural awareness, inclusivity, and respect for diversity during the holiday season. By incorporating a variety of traditions and celebrations into your teaching, you can create a classroom that embraces the rich tapestry of cultures and backgrounds represented by your students.
Handwriting Practice Worksheets