| | | | | | | | | | | |
| --- | --- | --- | --- | --- | --- | --- | --- | --- | --- | --- |
| | | | | | | | | | | |
| | Interactive Thanksgiving Hangman-style Energy Saver Game | | Thanksgiving Word Search Puzzle | | Thanksgiving Memory-style Printable Card Game for Kids | | Thanksgiving Crossword Puzzle | | Thanksgiving Terms Print Handwriting Practice Worksheet | |
| | | | | | | | | | | |
| --- | --- | --- | --- | --- | --- | --- | --- | --- | --- | --- |
| | | | | | | | | | | |
| | Thanksgiving Acrostic Poem Blank Worksheet (Grades 1-8) | | Thanksgiving Nouns Common or Proper Worksheet (Grades 1-3) | | Thankfulness Blank Graphic Organizer Worksheet | | Pilgrim Man Coloring Page | | Pilgrim Woman Coloring Sheet | |
| | | | | | | | | | | |
| --- | --- | --- | --- | --- | --- | --- | --- | --- | --- | --- |
| | | | | | | | | | | |
| | Thanksgiving Thankfulness Hierarchy Organizer Worksheet | | Thanksgiving Rhyming Words Matching Worksheet | | "The Happiest Hour of Thanksgiving" Poem Cursive Writing | | Thanksgiving Clip Art Gallery | | Happy Thanksgiving Handwriting Practice Coloring Worksheet | |
Exploring the history and traditions of Thanksgiving in the United States can be a rich and educational experience for both teachers and students. Here are some ideas and activities for teachers and students to delve into this topic.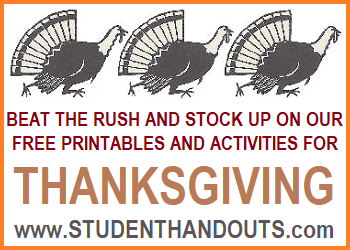 Historical Context:
Read Primary Sources: Introduce students to primary sources such as letters, diaries, and accounts from the time of the Pilgrims and Native Americans. These can provide firsthand insights into the early Thanksgiving celebrations.
Virtual Field Trips: Explore online resources and virtual tours of historical sites related to the Pilgrims and the first Thanksgiving, such as Plimoth Plantation in Massachusetts.
Guest Speakers: Invite a historian or local expert to speak to the class about the historical context of Thanksgiving, including the Pilgrims' journey, their interactions with Native Americans, and early celebrations.
Thanksgiving Traditions:
Compare Historical and Modern Traditions: Have students compare and contrast the early Thanksgiving customs with modern-day Thanksgiving traditions. Create a Venn diagram or a written assignment to highlight the differences and similarities.
Interviews: Encourage students to interview family members or community members about their Thanksgiving traditions and how they have evolved over the years. Share these stories in class.
Cooking and Food: Explore the history of Thanksgiving foods and recipes. Consider cooking or baking traditional dishes from the Pilgrim era and discussing how they have evolved into today's Thanksgiving meal.
Creative Projects:
Thanksgiving Timeline: Have students create a timeline of Thanksgiving, starting with the arrival of the Pilgrims in 1620 and continuing through significant historical events related to the holiday.
Art and Crafts: Engage students in art and crafts projects related to Thanksgiving. They can make dioramas of the first Thanksgiving, create paintings or drawings depicting the holiday, or design historical costumes.
Creative Writing: Encourage students to write historical fiction stories set during the time of the Pilgrims and Native Americans or to compose personal narratives about their own Thanksgiving traditions and memories.
Multicultural Perspective:
Research Native American Tribes: Explore the cultures and traditions of Native American tribes that interacted with the Pilgrims, such as the Wampanoag. Discuss the importance of respecting and acknowledging Native American perspectives on Thanksgiving.
Compare with Other Cultures: Compare Thanksgiving to similar harvest festivals and gratitude celebrations in other cultures around the world.
Community Engagement:
Community Service: Encourage students to participate in community service activities related to Thanksgiving, such as volunteering at food banks, shelters, or participating in Thanksgiving-themed charity drives.
Interview Elders: Have students interview older members of the community about their memories of past Thanksgivings. This fosters intergenerational connections and provides historical insights.
Presentations and Discussions:
Class Debates: Organize class debates or discussions about the origins and controversies surrounding Thanksgiving, including debates on the portrayal of Native Americans in Thanksgiving narratives.
Multicultural Potluck: Organize a multicultural potluck where students and their families share dishes from their diverse backgrounds, emphasizing the idea of gratitude and sharing.
Visual and Multimedia Resources:
Documentaries and Films: Show age-appropriate documentaries or films that explore the history and traditions of Thanksgiving. Discuss the accuracy and portrayal of historical events.
Online Resources: Explore educational websites, interactive maps, and virtual exhibits related to Thanksgiving history and culture.

By incorporating these activities and approaches, teachers and students can gain a deeper understanding of the history and traditions of Thanksgiving in the United States, while also promoting critical thinking, cultural awareness, and appreciation for the holiday's significance.
Miscellaneous Handwriting Practice Handouts
Cursive | Print - Printable "Thanksgiving" handwriting practice worksheet
Cursive | Print - Printable "Happy Thanksgiving!" handwriting practice worksheet
Cursive | Print - Printable "'Gobble-gobble,' says the turkey" handwriting practice worksheet