Print Manuscript Writing Worksheets
| | | | | | | | | | | |
| --- | --- | --- | --- | --- | --- | --- | --- | --- | --- | --- |
| | | | | | | | | | | |
| | ABCs: Printable Sample Print Alphabet | | ABCs: Practice English Alphabet Handwriting | | Individual Children's Names Handwriting Practice | | Alphabet Writing Practice Workbook | | Numbers Writing Practice Workbook | |
| | | | | | | | | | | |
| --- | --- | --- | --- | --- | --- | --- | --- | --- | --- | --- |
| | | | | | | | | | | |
| | Handwriting Practice Paper with Dashed Center Line | | Primary Dashed Writing Paper with 1" Lines | | Early to Bed by Ben Franklin | | Jefferson Quotes Copywork Workbooks | | Important Events | |
| | | | | | | | | | | |
| --- | --- | --- | --- | --- | --- | --- | --- | --- | --- | --- |
| | | | | | | | | | | |
| | Days of the Week Sheets in Cursive and Print | | Months of the Year Sheets in Cursive & Print | | Presidents of the United States | | Back to School | | Basic Etiquette Phrases | |
| | | | | | | | | | | |
| --- | --- | --- | --- | --- | --- | --- | --- | --- | --- | --- |
| | | | | | | | | | | |
| | Shapes: Color and Print Square, Circle, and Triangle | | George Washington Coloring and Handwriting | | Nature Quotes Copywork Workbooks | | Abraham Lincoln Coloring and Handwriting Sheet | | Proverbs for Children 24-Page Copywork Book | |
| | | | | | | | | | | |
| --- | --- | --- | --- | --- | --- | --- | --- | --- | --- | --- |
| | | | | | | | | | | |
| | Moon Phases Handwriting Practice Worksheet | | Tyrannosaurus Rex Coloring and Writing Sheet | | Animal ABCs Coloring Book with Handwriting | | Shapes: Color and Print Rectangle, Circle, and Triangle | | Ovid (Ancient Rome) Quotes in Print or Cursive | |
| | | | | | | | | | | |
| --- | --- | --- | --- | --- | --- | --- | --- | --- | --- | --- |
| | | | | | | | | | | |
| | Polite Refusals Handwriting Worksheet in Print or Cursive | | Education in Ancient Greece Worksheet for Kids | | Romantic Composers | | Wise Words about Wealth Handwriting Worksheet | | Animal Alphabet Coloring Workbook | |
Practicing print manuscript writing and spelling with our free handwriting printables before starting kindergarten or first grade can be beneficial for several reasons.
Preparation for Academic Skills
: Developing writing and spelling skills before entering first grade helps children get a head start on essential academic skills. This early preparation can make the transition to formal education smoother.
Building Confidence
: By practicing writing and spelling, children gain confidence in their abilities. When they enter school already equipped with some literacy skills, they are more likely to feel comfortable and motivated to participate in classroom activities.
Improved Handwriting
: Early practice with writing can lead to improved handwriting skills. Neat and legible handwriting is crucial for effective communication and academic success as students progress through school.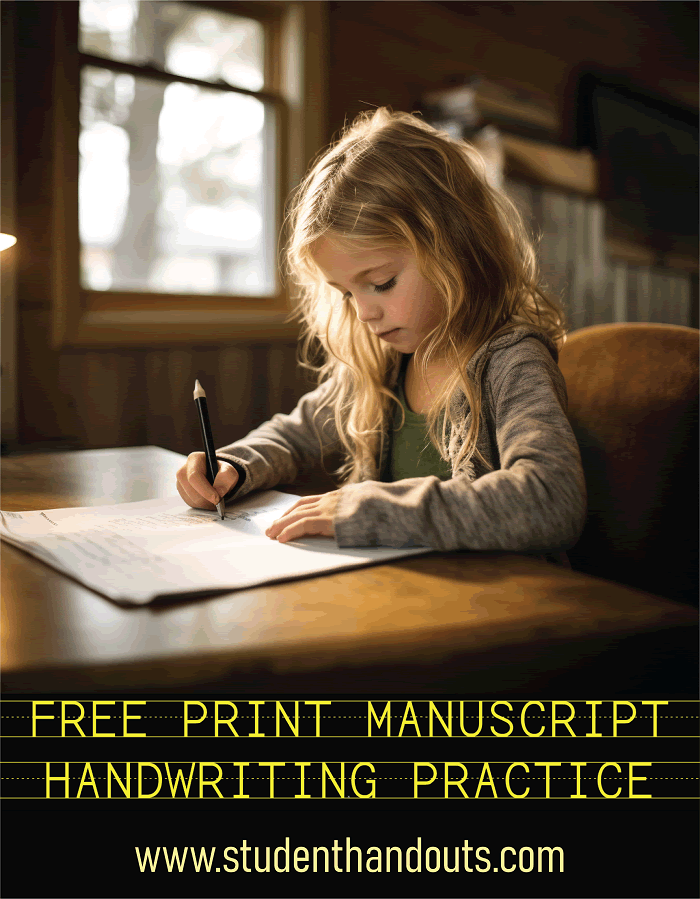 Enhanced Phonemic Awareness
: Spelling practice often involves sounding out words and recognizing phonetic patterns. This helps children develop phonemic awareness, which is crucial for reading and spelling in later grades.
Vocabulary Development
: Writing and spelling exercises introduce children to new words and reinforce their understanding of vocabulary. A rich vocabulary is fundamental for comprehension and expression in both reading and writing.
Language Fluency
: Regular writing and spelling practice contribute to language fluency. As children become more fluent, they can express themselves more effectively and comprehend written text with greater ease.
Preventing Learning Gaps
: Early intervention and practice can help identify and address any potential learning gaps or difficulties in writing and spelling. Addressing these issues early can prevent them from becoming more significant challenges later on.
Promoting a Love for Learning
: Engaging in literacy-related activities can foster a love for learning and reading. Children who enjoy writing and spelling activities are more likely to develop a lifelong interest in reading and writing.
Parent-Child Bonding
: Practicing writing and spelling with parents or caregivers can be a bonding experience. It provides an opportunity for positive interaction and support for the child's learning journey.
Alignment with School Expectations
: Many schools have expectations for incoming first-graders, including basic writing and spelling skills. Practicing these skills at home ensures that children are well-prepared to meet these expectations.
| | | | | | | | | | | |
| --- | --- | --- | --- | --- | --- | --- | --- | --- | --- | --- |
| | | | | | | | | | | |
| | One Hundred Days of School Handwriting Practice | | A Stick or Stone Print Manuscript Handwriting Practice | | Frederick Douglass Handwriting and Coloring Page | | | | | |