Art Nouveau Edwardian Childhood Images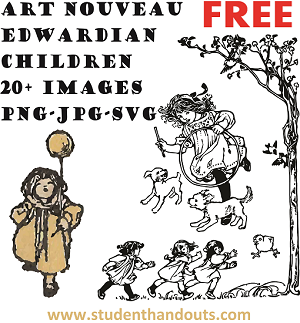 These beautiful antique images (from 1907) are just the thing to create a beautifil project. The Edwardian era (1901-1910) witnessed the peak of Art Nouveau design, and this artistry is evident in even the simplest creations from that time.

These free downloadable vectors include a child with a balloon, children playing outdoors, animals and pets, toys such as the teddy bear and hobby horse, and so much more.

Three different formats are available for free download: JPG, PNG, and SVG. The vector files (PNG and SVG) feature transparent backgrounds. In addition to this transparency, vectors can be scaled up quite a bit, without losing their resolution.

Usage is free for personal projects. These are great to use with your Cricut or other cutting machine. To license these vectors for professional use, please contact us.