Life and Death in Shanghai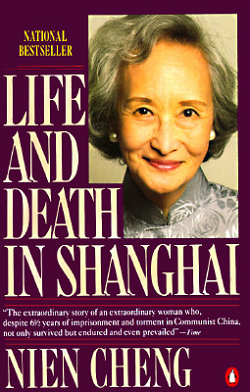 The Story
Life and Death in Shanghai
(New York: Penguin Books, 1986) is the memoir of Yao Nien-Yuan (writing under the pen name Nien Cheng). Yao Nien-Yuan (1915-2009) was a resident of Shanghai, China, who had worked for Shell Corporation. During the Cultural Revolution (1966-1976) of the People's Republic of China, Yao Nien-Yuan spent over six years in prison as a capitalist-roader--accused of working with foreign imperialist powers to undermine the socialist principles of Chairman Mao. While Yao Nien-Yuan was imprisoned, her daughter, Meiping, was murdered under violent questioning.
Despite being nearly 550 pages in length and focusing on the life of a middle-aged person (*gasp*), this is the sort of book that teenaged students have trouble putting down. Not only does this riveting memoir help readers to understand what happened in the confused mess of the Cultural Revolution, it inspires quality character by illustrating high moral qualities such as resilience, fortitude, bravery, and a thirst for justice. Yao Nien-Yuan was emotionally and mentally tortured while forced to live under brutal conditions. Her tale of how she survived under this appalling treatment, then went on to seek justice for herself and her daughter, is the sort of story which will benefit students for a lifetime.
Classroom Use
This book is best suited for high school students studying modern Chinese history as part of a World History course. The reading level is accessible to high school students. However, students should be given some background on Chinese history and politics before beginning this text.
Terms and Names
: Beijing, big-character poster, capitalist-roader, Deng Xiaoping, Four Olds, Gang of Four (Jiang Qing, Wang Hongwen, Yao Wenyuan, and Zhang Chunqiao), Lin Biao, Little Red Book, Mao Zedong, Red Guards, Shanghai, struggle meeting (or struggle session), Zhou Enlai.
This book was a bestseller when it was released, and copies can be found anywhere from libraries to used book stores. If you have trouble locating it, you can find it on Amazon here:
Life and Death in Shanghai by Nien Cheng
. For our free educational materials on this period in World History, click
here
.