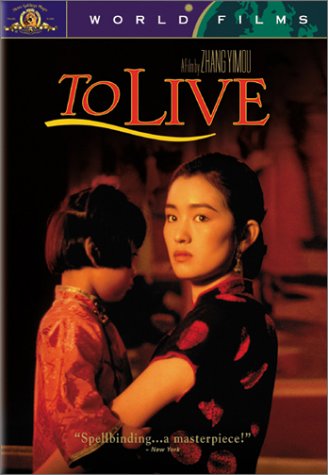 Release date
: 1994
Reviewer
: Ms. Fox
Length
: 125 minutes (2 hours, 5 minutes)
Age appropriateness rating
: This film is appropriate for grades 6 and up. However, because of the historical content, it is most often used with high school students studying mid-20th-century Chinese history.
Creators and stars:
Based on the novel
Huozhe
(
Lifetimes
) by Yu Hua. Starring the actress often called "the most beautiful woman in China," Gong Li.
Accuracy
: This Hong Kong film was banned in mainland
China
because of its historical accuracy and unflattering depictions of the harshness surrounding the Chinese Cultural Revolution.
Review
: We have never seen students so engrossed and interested in both the Communist Revolution and Cultural Revolution in China than we have after students watch this entertaining, moving, and often humorous film. The story centers around a wealthy Chinese couple who are brought low by the husband's gambling addiction. Forced into poverty, dad is drafted into the Communist army. During the Cultural Revolution, the family finds itself eating in a communal kitchen and more. With two adorable kids and superb acting, this is a must-see film.
Miscellaneous: Spoiler alert--there are a couple of tear-jerker scenes in this film that moisten the eyes of even the "toughest" kids, so keep the tissues handy. Chinese with English subtitles (believe it or not, we have seen seventh-graders intently reading every word on the screen).
To Live Movie Review Publication Date for Citation Purposes: May 1, 2009