Back to 1942 is not officially rated in the United States, but would easily earn an R rating for brutal scenes of wartime violence. This film is appropriate for classroom viewing only by mature high school students. This film contains mild profanity and brief nudity (e.g., merely a lactating mother). 146 minutes (2 hours, 26 minutes). Chinese and English with English subtitles.
Back to 1942 is set against the famine which took place in China's Henan Province starting in 1942. This film is based on the novel Remembering 1942 by Liu Zhenyun, not yet available in English translation. Based on the film's narration, it describes the real lives of people who lived and died during this tragic event, including the narrator's mother.

Historical accuracy of the larger event is confirmed byTime magazine's Theodore White (portrayed by Adrien Brody in the film), whose photographs, articles, and book chronicled the famine in Henan. Mild controversy surrounds the Chinese government's approval of the film. That is, the Kuomintang is not shown in any positive light. This may well be true, but one wonders how quickly officials in Beijing would approve a film set against the years of famine under Mao.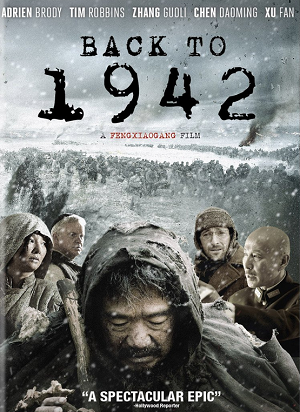 Back to 1942 is easily one of the most brutal depictions of starvation and wartime violence to ever appear on film. It is not light viewing. Then again, it would be dishonest to paint a picture of China during World War II any other way.

San Jose State University has an account of the famine in Henan here. China Underground has Theodore White's photographs of the Henan famine available here.

Creators and Stars: Adrien Brody, Chen Daoming, Chen Yusheng, Fan Wei, Feng Xiaogang, Feng Yuanzheng, Li Qian, Li Xuejian, Li Yiaozhou, Lin Yongjian, Liu Zhenyun, Luo Yang, Peng Jiale, Qiao Zhenyu, Tim Robbins, Xu Fan, Yao Jingyi, Ying Tong, Yu Genyi, Yu Zhen, Yuan Huifang, Zhang Guoli, Zhang Guoqiang, Zhang Hanyu, Zhang Jie, Zhang Mo, Zhao Yi.

Terms and Names: abandon, aerial bombing, barren, cannibalism, Chiang Kai-shek, China, corruption, disaster, displaced persons, drought, embezzlement, famine, grain, Henan Province, hoarding, human trafficking, Japan, Jiang Dingwen, Kuomintang (KMT), Li Peiji, locusts, millet, Nationalist Army, refugee, starvation, suffering, Theodore White, World War II, Zhang Lisheng.

Questions: (1) Locate Henan Province on a map. (2) What causes the famine? (3) How does the Nationalist Army treat the refugees from Henan? (4) How are women treated differently from men? (5) Why does Xialu attempt to sell his young daughter, Lingdang? (6) What happens to the grain allocated for relief efforts? (7) What becomes of Huazhi's family? (8) How many people died as a result of this famine? (9) Theodore White brought attention to this story through his photographs and articles. How do journalists and activists bring attention to similar events today?
| | |
| --- | --- |
Back to 1942 Movie Review Publication Date: April 18, 2014