Industrial Revolution Educational Materials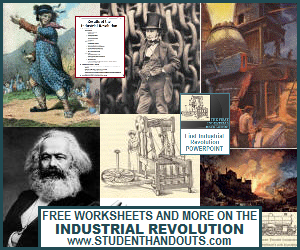 This unit of free educational materials focuses on the Industrial Revolution in World History, from its origins in the Commercial Revolution, Scientific Revolution, and Intellectual Revolution, through advances in English cotton manufacturing, to its spread to continental Europe, the United States, and beyond. Particular attention is paid to inventors from the period, such as Arkwright, Hargreaves, Kay, Stephenson, Diesel, et al.

The term Industrial Revolution was first popularized in the early 1880s by economic historian Arnold Toynbee (British, 1852-1883).