The Medieval Knights Templar
| | |
| --- | --- |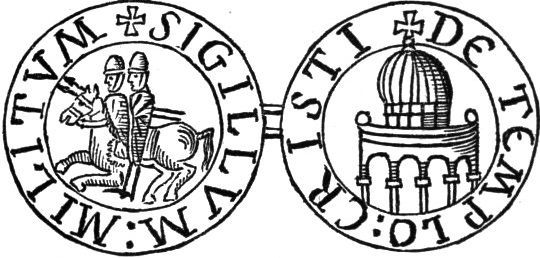 Above: Knight Templar wearing the distinctive white mantle adorned with a red cross, and carrying a similarly designed shield. Right: Seal of the Knights Templar ("Sigillum Militum" and "De Templo Cristi").



The Knights Templar were active for approximately two centuries, from the early 1100s to the early 1300s. This Christian military order was headquartered on the Temple Mount in Jerusalem.

The Knights Templar, or Templars, were officially known as the Poor Fellow-Soldiers of Christ and of the Temple of Solomon

(in Latin, Pauperes commilitones Christi Templique Salomonici). This group was also known as the Order of the Temple

(in French,

Ordre du Temple

or

Templiers).

This Christian military order was active during the Crusades, when European forces sought to take control of the Holy Land (modern-day Israel). Additionally, this organization's financial activities contributed much to the development of a modern banking system.

The Knights Templar were largely wiped out by France's Philip IV in 1307, who was heavily in debt to the order.
Templar Motto: Latin - "Non nobis Domine, non nobis, sed nomini tuo da gloriam." English - "Not to us Lord, not to us, but to Your Name give the glory."
Click
here
for a free printable coloring page, including print or cursive handwriting practice, featuring our image of a Knight Templar.