Ancient Mysteries--Forbidden City: Dynasty and Destiny (1996)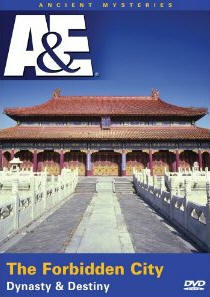 Length: 43 minutes

Age appropriateness: Ancient Almanac "Forbidden City: Dynasty and Destiny" is officially rated "TV-G" in the United States. It is safe for all ages. Its content is most appropriate for students in grades five on up.

Creators and stars: Bram Roos, David M. Frank, Frederick Wakeman, Jordan Friedberg, Leonard Nimoy, Lionel Friedberg, Mark Finkelpearl, Michael Nylan, Michele Thibeault, Morris Rossabi, Nicola Di Cosmo, Pamela Crossley, Ron Nelson, Shelly Stocking, Vaughn Johnson

Accuracy: The historical content of this documentary film is overall accurate. It covers the history of Beijing's Forbidden City, built between 1406 and 1420, which was the home of Chinese emperors until Puyi was evicted in 1924. It is currently listed as a UNESCO World Heritage Site.

Review: Ancient Mysteries' "Forbidden City: Dynasty and Destiny" covers the history of the Forbidden City, home to Chinese emperors, from its construction in the early 15th century to the present day. Factual information on the Ming and Qing dynasties is interspersed with legends and curses that will keep kids interested and entertained.

A difficulty with this DVD is Leonard Nimoy's pronunciation of Chinese names. There is also a lack of dates presented. It might be wise to give students some basic information on Chinese history before viewing this film.

Questions, terms, names, and dates for this documentary are provided below.
Vocabulary terms and names: Beijing, castration, chi, China, Cixi (1835-1908), Coal Hill, concubine, curse, death by a thousand cuts, emperor, eunuch, feng shui, Forbidden City, Garden of Dispossessed Favorites, Hall of Mental Cultivation, Hall of Supreme Harmony, Jintaiji, majestic, Manchuria, Ming Dynasty (1368-1644), mystique, Nara clan, palace, Puyi (1906-1967), Qing Dynasty (1644-1912), throne, yellow, Yongle a.k.a. Zhu Di (1360-1424)

Review and discussion questions: (1) Who became emperor of China on December 3, 1908? (2) What happened to those who unlawfully entered the Forbidden City? (3) What role did eunuchs play in the Forbidden City? (4) The Forbidden City is located in what Chinese city? (5) How does the Forbidden City incorporate feng shui principles? (6) According to this documentary, why did the Ming Dynasty fall? (7) What happened to the "fragrant concubine"? (8) What was life like for eunuchs in the Forbidden City? (9) Where did the Qing (Chang) originate? (10) Describe the curse which some believe ended the Qing Dynasty. (11) What threatens the Forbidden City today? (12) Do you believe that the rumors, mysteries, legends, and curses surrounding the Forbidden City added to or detracted from the power held by Chinese emperors? Explain your answer.
Ancient Mysteries "Forbidden City: Dynasty and Destiny" Movie Review Publication Date for Citation Purposes: June 30, 2012