Lafayette: The Lost Hero (2010)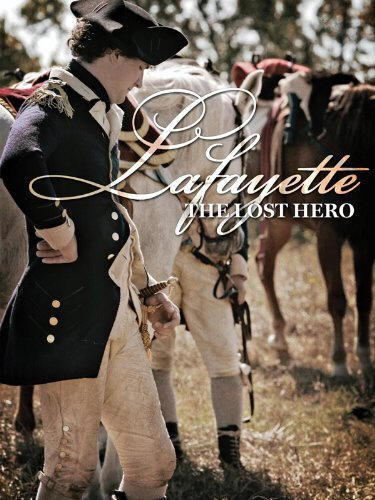 Length: 55 minutes

Age appropriateness: "Lafayette: The Lost Hero" is not officially rated in the United States. It is safe viewing for all ages, though its content (the American Revolution and the French Revolution) fit best for junior and senior high school students.

Creators and stars: Adriane Renault-Sabloniere, Albane Renault-Sabloniere, Andrew Gregory, Dean Malissa, Elgin Smith, Gonzaque Saint Bris, Jacques de Trentinian, James R. Gaines, Joel Goodman, John A. Lynn, John Cullum, Julia Morrison, Matthew Keagle, Michael Cumpsty, Oren Jacoby, Patrick Bauchau, Patrick Villiers, Peter R. Livingston, Jr., Robert R. Crout, Sabine Renault-Sabloniere, Sarah Vowell, Stephanie Szostak, Thomas Beckner

Accuracy: Although brief, and with much left out, "Lafayette: The Lost Hero" offers an accurate look at the life of the Marquis de Lafayette (1757-1834).

Review: "Lafayette: The Lost Hero" offers a brief overview of the life of Lafayette. It includes plenty of primary source documents, including the writings of the Lafayettes, George Washington, and contemporary newspaper accounts. This documentary film does a good job of giving a basic explanation of the role of Lafayette (and other French fighters) in the American Revolution.

But the drawbacks of this film are worth noting. The production quality seems rather low; it is surprising that this was made by PBS in 2010, rather than by the History Channel in the 1990s. The reenactments are mediocre, with footage of the film crew taking viewers out of the moment. The acting, likewise, leaves a lot to be desired. (Based on surnames, it appears that two descendants of the Lafayettes, and relatives of interviewee/writer Sabine Renault-Sabloniere, play the young and adult versions of Adrienne de Noailles.) Moreover, despite promises of great drama and an engaging love story, this documentary falls flat. Here was a man who, as a teenager, bravely volunteered to fight for American independence based solely on idealistic beliefs in liberty and democracy. Young viewers will hopefully pick up on this. It's great fodder for a documentary film, yet simply isn't done as well as it could be.

Still, the Marquis de Lafayette was an important figure in the Revolutionary War, and well worth studying. This documentary gives students plenty of information on him. Questions and terms are provided below.
Discussion and recall questions: (1) Gilbert de Lafayette married whom? (2) How did the Duke of Gloucester impact Lafayette? (3) What happened to Lafayette at the Battle of Brandywine? (4) How did the Marquis de Lafayette and George Washington become friends? (5) What was James Armistead's role in the Battle of Yorktown? (6) Summarize Lafayette's work to end slavery. (7) Describe Lafayette's role in the French Revolution. (8) Why was Lafayette forced to flee France, then held as a prisoner? (9) Do you believe that the Marquis de Lafayette was a hero? Why or why not? (10) Consult local maps and atlases to locate ten places, preferably near where you live, named in honor of the Marquis de Lafayette.

Vocabulary terms and names: Adrienne de Noailles, American Revolution, Battle of Brandywine, Battle of Yorktown, Declaration of the Rights of Man, French Revolution, General Cornwallis, George Washington, Gilbert de Lafayette, guillotine, James Armistead, Louis XVIII, Marie Antoinette, Valley Forge, Versailles
"Lafayette: The Lost Hero" Documentary Review Publication Date for Citation Purposes: February 22, 2013