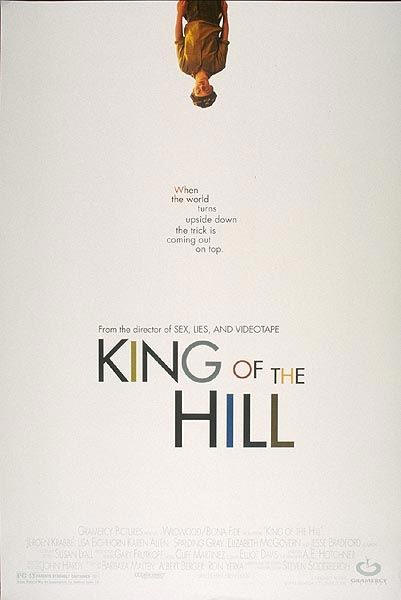 Length: 103 minutes (1 hour, 43 minutes)

Age Appropriateness Rating: King of the Hill is rated PG-13 in the United States. There are some mature themes, but this film is fairly tame. It is best suited for students in grades 6 and up, and will be most appreciated by those students of junior high school age (grades 7 and 8).

Creators and Stars: A.E. Hotchner, Adrien Brody, Amber Benson, Cameron Boyd, Chris Samples, Elizabeth McGovern, Jeroen Krabbe, Jesse Bradford, Joe Chrest, John McConnell, Karen Allen, Katherine Heigl, Lauryn Hill, Lisa Eichhorn, Spalding Gray, Steven Soderbergh, Gramercy Pictures

Historical Accuracy: This film gives an accurate overview of the poverty suffered by millions of Americans during the Great Depression in the 1930s. There is one glaring anachronism involving a letter from the WPA (Works Progress Administration) dated a couple of years before the agency was established, but this does not affect the quality of the film.

Review: King of the Hill focuses on Aaron Kurlander, a boy of about 13 who lives in a shabby St. Louis hotel due to his parents' financial distress. His father is unemployed, and also happens to be a bit of a shyster. His mother is ill with turberculosis, and is in a sanitarium for most of the film. Ultimately, Aaron is left to fend for himself.

King of the Hill hits on a lot of talking points for this time frame (1930s)--Charles Lindbergh, poverty, the tuberculosis epidemic, the New Deal, and more. The props and set locations are highly accurate for the period. Most importantly, Aaron's story is sure to pique students' interest and keep them glued to the screen.
| | | | | | | | | | | |
| --- | --- | --- | --- | --- | --- | --- | --- | --- | --- | --- |
| | | | | | | | | | | |
| | Jesse Bradford as Aaron | | Jeroen Krabbe as Mr. Kurlander | | Lauryn Hill as the Gum-Chewing Elevator Operator | | Adrien Brody as Lester | | Katherine Heigl as Christina | |
Unfortunately, this fictionalized memoir does not offer enough "hard facts" to justify a classroom viewing for the purpose of educating students on the Great Depression. However, it is great to show while studying the time period as a reward film, or if there is a day or two with high absenteeism (due to class trips or the like). King of the Hill is most recommended for at-home viewing, followed by a family discussion comparing and contrasting life during the Great Depression and life today.
| | |
| --- | --- |
| War, Properity, & Depression Books & Films | War, Properity, & Depression Miscellaneous |
| | |
| War, Properity, & Depression Image Galleries | War, Properity, & Depression Outlines & Powerpoints |
| | |
| War, Properity, & Depression Study Games | War, Properity, & Depression Worksheets |