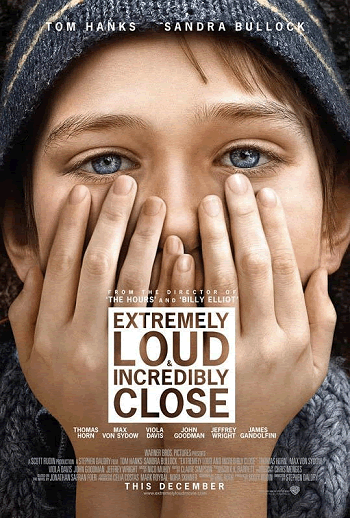 Length: 129 minutes (2 hours, 9 minutes)

Age appropriateness: Extremely Loud and Incredibly Close is officially rated PG-13 in the United States. The film's themes involve grief, loss, and guilt. It is appropriate for students in junior and senior high school, as well as younger kids (as young as fifth grade) who are learning about these themes.

Creators and stars: Adrian Martinez, Brooke Bloom, Dennis Hearn, Eric Roth, Hazelle Goodman, Jeffrey Wright, Jenson Smith, Jim Norton, John Goodman, Jonathan Safran Foer, Julian Tepper, Max von Sydow, Sandra Bullock, Stephen Daldry, Stephen Henderson, Stephen Kunken, Thomas Horn, Tom Hanks, Viola Davis, Zoe Caldwell

Accuracy: This movie is based on the 2005 novel of the same name by Jonathan Safran Foer. Although the story is fictional, the limited information on 9/11 is accurate.

Summary: Extremely Loud and Incredibly Close tells the story of how a nine-year-old boy, Oskar Schell, deals with the grief and guilt he feels after losing his father (Thomas Schell, played by Tom Hanks) in the terrorist attack at the World Trade Center in New York, NY, on September 11, 2001.

Before "the worst day," Oskar and his father participated in fun research expeditions. Some time after 9/11, Oskar discovers a key in his father's closet. He then devises a research project of his own--discovering the original owner of the key and what the key unlocks--in order to feel closer to his father. Review: We rate this a "meh" because while it is an enjoyable, heart-warming film, the plot exceeds probability.

Oskar Schell is an engaging character, but has poorly-defined psychological issues that seem to exist simply to make the character more interesting on screen.

We don't want to give any spoilers, but we imagine you might be scratching your head as much as we did as certain events unfolded, such as the revelation of the renter's true identity, the participation of Oskar's mother in his search, and more.

We expected a sappy story (after all, it's about a kid dealing with the loss of a parent in 9/11), and kept tissues handy. Given the cast, we were not surprised to see great acting on screen. But we didn't expect such a ridiculous, improbably storyline.

If you are looking to do a unit on grief, this film will work, and the plot will keep tweens and teens interested. But old standards like Bridge to Terabithia handle grief, guilt, and loss much better.

As for 9/11, this film does not include enough content on the events to make it worthwhile as a piece of historical fiction. Click here to enlarge the film poster.
Extremely Loud and Incredibly Close Movie Review Publication Date for Citation Purposes: December 6, 2012