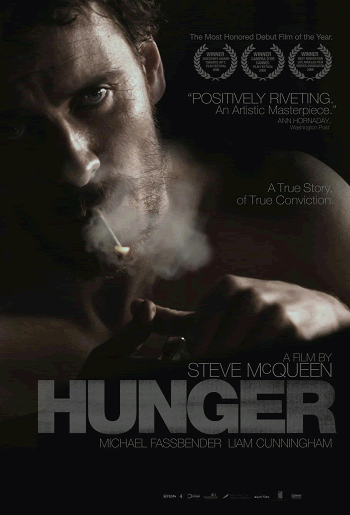 Length: 96 minutes (1 hour, 36 minutes)

Age appropriateness: Hunger is not officially rated in the United States. This films provides a factual account of living conditions in the Maze Prison, and of the death of Bobby Sands. It vividly portrays nudity, assault, starvation, assassination, and death. Despite the film's educative value, I cannot fathom any teacher being able to show it in a classroom. This movie is recommended for home viewing, with parental permission, by mature teenagers who are interested in learning more about the Troubles in Northern Ireland.

Creators and stars: B.J. Hogg, Billy Clarke, Ben Peel, Brian Milligan, Ciaran Flynn, Des McAleer, Enda Walsh, Frank McCusker, Geoff Gatt, Helen Madden, Helena Bereen, Karen Hassan, Laine Megaw, Lalor Roddy, Liam Cunningham, Liam McMahon, Michael Fassbender, Paddy Jenkins, Rory Mullen, Steve McQueen, Stuart Graham

Accuracy: Hunger is a generally unbiased look at what conditions in the Maze prison were like for Irish nationalist prisoners and their guards in the late 1970s/early 1980s. Authentic audio clips of Margaret Thatcher from radio and television broadcasts play in the background throughout the film.

Review: Hunger is difficult, yet beautiful, to watch. The incidents and conditions depicted are brutal and disgusting, yet director Steve McQueen's artistic eye keeps viewers glued to the screen. It is set in the Maze prison during 1980 and 1981, when prisoners accused of Irish nationalist terrorist activities were demanding to be recognized as political prisoners rather than as regular criminals. Their "Five Demands" were:

1. The right not to wear a prison uniform;
2. The right not to do prison work;
3. The right of free association with other prisoners, and to organize educational and recreational pursuits;
4. The right to one visit, one letter and one parcel per week;
5. Full restoration of remission lost through the protest.

The British government's refusal to meet these Five Demands was answered with the blanket protest (the refusal to wear prisoner uniforms), the no wash protest (the refusal to bathe, which included keeping filthy cells, complete with walls smeared in excrement), and eventually, the hunger strike (where prisoners refused to eat).

The movie can be divided into three parts. The first part shows the daily lives of two H-block prisoners who are on the blanket and no wash protests, as well as the life of one of the guards who watches over them. Its beautifully filmed slow pace makes you feel like you are there, experiencing everything right along with the characters.

The second part has more action, and introduces Bobby Sands, a leading figure in the history of Northern Ireland. This second section contains 17 minutes or so of the most riveting dialogue ever filmed, captured in one long, unbroken shot. Although this scene contains some profanity, it should be safe to show in a high school classroom. In it, a priest tries to dissuade Bobby Sands from going on hunger strike. Bobby defends his decision on both political and emotional grounds.

The third and last part of the film depicts Bobby Sands's (played by a brilliant Michael Fassbender) slow death from starvation.

Steve McQueen is to be commended for bravely taking on such a difficult and controversial topic. When the film first premiered, there were walkouts from viewers upset by the both highly-charged political setting and graphic nature of the subject matter. Whether making a documentary or a feature film, it is a daunting task for anyone to get viewers invested in characters who exist under these conditions. Yet Steve McQueen does just this. With little or no dialogue for most of the film, viewers (given just a bit of historical background before watching the movie) should walk away with a much deeper understanding of what these protests were like. Click here to enlarge the film poster.
Miscellaneous: Hunger has been critically acclaimed and won numerous awards, including the Camera d'Or for director Steve McQueen.

Vocabulary terms: blanket protest, Bobby Sands, contraband, formal recognition, H.M.P. Maze, H-block, hunger strike, I.N.L.A. (Irish National Liberation Army), I.R.A. (Irish Republican Army), Margaret Thatcher, martyrdom, no wash protest, Northern Ireland, paramilitary prisoners, perseverance, political extremism, political status, protest, radicalism, resistance, the Troubles, U.D.A. (Ulster Defence Association)

Discussion questions: (1) Describe what conditions were like for Irish nationalists living in the Maze prison. (2) Imagine that you are a guard working at this prison. How would you view the prisoners? Why? (3) Imagine that you are an Irish nationalist prisoner here. Would you participate in the protests? Why or why not? (4) When the protests ended without formal recognition of the nationalist prisoners (considered terrorists) as political prisoners, Margaret Thatcher considered it a victory. Yet, for years afterwards, IRA membership increased, while Bobby Sands grew as a respected heroic figure in Irish history. Knowing these facts, in your opinion, was there a victor in this battle? If so, who won, and why? Explain your answer.
Hunger Movie Review Publication Date for Citation Purposes: June 9, 2012