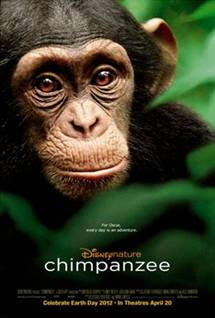 Length: 78 minutes (1 hour, 18 minutes)

Age Appropriateness Rating: This film is safe for kids in kindergarten and up, but is probably best for kids in at least second grade.

Creators and Stars: Disney Nature Series, Oscar, Isha, Freddy, Tim Allen, Alastair Fothergill, Mark Linfield, Don Hahn, Martin Colbeck, Bill Wallauer, Christophe Boesch

Accuracy: This film is authentic wildlife footage shot in the Ivory Coast's Tai Forest National Park.

Review: "Chimpanzee," the latest film in the Disney Nature Series, is amazing from start to finish. Yet again, Disney's team of exemplary wildlife documentary filmmakers have accumulated years' worth of visually stunning footage to tell a story about nature that both kids and adults will enjoy. Narrated by Tim Allen, the story focuses on Oscar, an adorable baby chimp who spends the first portion of the film learning the ways of the jungle from his mother, Isha. Tragically, through the warfare endemic to chimpanzee groups, Oscar loses Isha. The loss of his mother puts little Oscar close to starvation. Miraculously, however, Freddy--an alpha male chimp who would not normally nurture a youngster--takes Oscar under his wing. Bring the tissues, because this film is a heartwarming tearjerker (yes, I cried a little).

This film does a great job of explaining how chimps survive in the wild. You get to see chimps gathering fruits and nuts, using simple tools, hunting monkeys and ants, creating beds in trees by weaving together flexible young branches, and much more. Did you know that chimpanzees wash their fruit before they eat it? It seems that chimps are cleaner than a lot of their human cousins!

Geared toward children, the film does not display any gruesome death or animal combat scenes.
Help the Chimps: If this movie inspires you or your youngsters to help chimpanzees, consider donating directly to the Jane Goodall Institute. Our interview with Jane Goodall is here. Our interview with the film's directors is here. A portion of the first week's box office goes to the institute. Check out a few images from the VIP screening of Chimpanzee, with Freida Pinto and others wearing an Alex Woo chimpanzee pendant necklace created for charity:
| | | | | | | | | | | |
| --- | --- | --- | --- | --- | --- | --- | --- | --- | --- | --- |
| | | | | | | | | | | |
| | Aubrey Anderson-Emmons of television's "Modern Family" | | Freida Pinto of Slumdog Millionaire and The Clash of the Titans | | Model Selita Ebanks | | Interview: Directors Mark Linfield (Earth) and Alastair Fothergill (African Cats and Earth) | | Interview: Jane Goodall, Chimpanzee Expert and Wildlife Conservationist | |
Miscellaneous: You can visit the official website here. The Disney site offers a free downloadable educator's resource pack for grades 2 through 6. The packet is pretty extensive, and includes video clips and PowerPoint presentations.

Vocabulary Terms: chimpanzee, rivals, waterfall, defective, jungle, grooming, hierarchy, nutrients, sacoglottis, teamwork, nut groves, territory, thunderstorm, raid, leopards, monkey, group, Ivory Coast, Africa

Review Questions: How do the chimps crack open nuts? What meat do chimps eat? Where do the chimpanzees sleep at night? How do the chimpanzees eat ants? Who ends up adopting Oscar?How many chimpanzees are alive today, as compared to the number of chimps living in 1960?
Chimpanzee Movie Review Publication Date for Citation Purposes: April 20, 2012