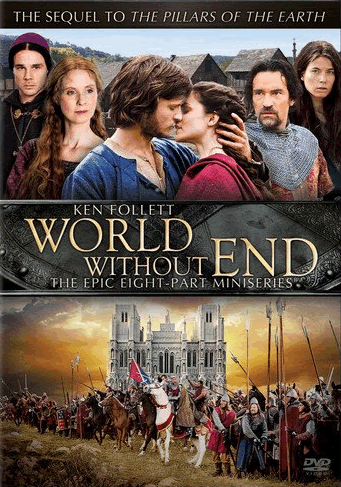 Length: Eight episodes, each approximately 50 minutes in length

Age appropriateness: This isn't officially rated in the U.S. Sex and violence in each episode make it inappropriate for school viewing. With parental approval, older, mature teens may enjoying watching this at home on Netflix or DVD.

Creators and stars: Aure Atika, Ben CHaplin, Blake Ritson, Carlo Rota, Caroline Boulton, Charlotte Riley, Cynthia Nixon, David Bradley, Hera Hilmar, Ian Pirie, Indira Varma, John Pielmeier, Ken Follett, Megan Fellows, Michael Caton-Jones, Miranda Richardson, Nora von Waldstatten, Oliver Jackson-Cohen, Peter Firth, Ridley Scott, Rupert Evans, Sarah Gadon, Tom Cullen, Tom Weston-Jones, Tony Scott

Accuracy: "World Without End" is the follow-up to "The Pillars of the Earth," both television miniseries based on novels by Ken Follett. "World Without End" picks up about 100 years later, in 1327, following the death of England's Edward II. The storyline is for the most part plausible, and the broader historical events (Black Death, start of the Hundred Years' War, and peasant uprisings) are true to the historical period.

Review: Like its predecessor, "The Pillars of the Earth," "World Without End" seeks to show life as it was lived by all socio-economic classes of England during the Middle Ages. Here, the medieval period is coming to an end. Peeking ahead to the budding Renaissance, Kingsbridge's residents are gradually becoming exposed to the engineering and medical knowledge flowing through the Italian city-states. Viewers get what modern audiences expect to see in today's historical dramas made for cable television--plenty of sex and violence, as well as hitherto ignored historical items given prominence. Not surprisingly, both are overdone.

Historical revisionism has its place. Women who lived and worked independently of men were treated with suspicion, and many who worked as midwives and utilized herbal medicine were persecuted and killed as witches. However, this reality does not validate the wide-scale acceptance and use of herbal medicine. Nor does it make a convent hospital, run by an accused witch using herbal remedies, very realistic for the period.

And certainly, knights were not the virtuous heroes depicted in 1950s Technicolor films and romance novels. But in Ken Follett's medieval landscape, one is left to assume that every man holding a title was a wanton philanderer, rapist, and murderer.

The same can be said of the medieval Church. Certainly, the Catholic Church had its problems, all of which contributed to the Protestant Reformation. But because hypocrisy, greed, ignorance, misogyny, and corruption dominate in this story, viewers are left to assume that these were the norm rather than the exception.

Overall, "World Without End" gives us a medieval landscape wherein half of the characters are caricatures of medieval ignorance, and the other half are somehow magically endowed with the modern sensibilities of the 21st century. To make matters worse, in order for certain events to take place, the story includes the unlikely fact that a great number of the principal characters are literate, including women. Again, it is plausible that characters set in the Middle Ages, including women, could read and write. But a miniseries like this might give viewers the impression that literacy was the norm.

In terms of character development, there simply is none. The "bad people" are not simply bad; they are cruel, vindictive, remorseless, and irredeemable. The "good people" are depicted as without fault regardless of the situation. In a story with a single villain and a single hero, this would be unmemorable. But here, with at least three primary characters constantly committing reprehensible acts with no remorse and no development into better people (in fact, they simply get worse), it gets tedious.

All of these criticisms aside, "World Without End" is entertaining. It can easily fuel someone's interest in the Late Middle Ages. Although not the focus of the film, the start of the Hundred Years' War is covered, as well as Edward III's rise to power.
Discussion and recall questions: (1) Why was amputation dangerous at this time? (2) Why might herbal medicine have been looked upon with suspicion? (3) How did Edward III come to power? (4) What was Edward III's reason for starting the Hundred Years' War? (5) Why did the Black Death ultimately lead to greater opportunities for peasants?

Vocabulary terms and names: Black Death, convent, crossbowmen, Edward II, Edward III, herbal medicine, House of Plantagenet, Hundred Years' War, Isabella of France, knight, Lady Joan, monastery, monk, nun, Roger Mortimer, witchcraft
Movie Review Publication Date for Citation Purposes: February 8, 2013