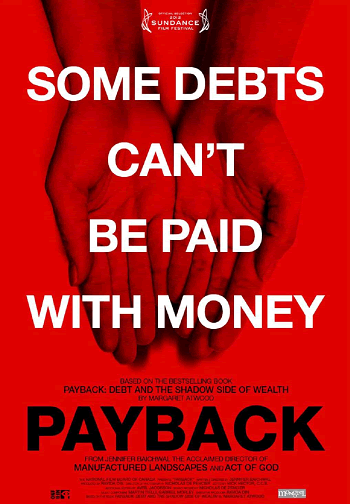 Length: 82 minutes (1 hour, 22 minutes)

Review: "Payback," based on the lecture series and subsequent book by Canada's Margaret Atwood, is eye-opening and thought-provoking. This is easy to write. What isn't as easy to write is a succinct description of this documentary film.

Payback looks at the concept of "debt" in numerous forms. What is debt? What does it mean to "owe" something? How is debt related to revenge? What happens when people are unable, or refuse, to pay their debts?

Interspersed with commentary by various people, the film primarily shifts between four examples of "debt": (1) an Albanian blood feud; (2) the BP oil spill in the Gulf of Mexico; (3) the rights of Hispanic farm laborers in Florida's tomato fields, and (4) the debt of prisoners to society (and likewise of society to prisoners).

I recommend this film for any high school teacher trying to encourage critical thinking skills among students. The subject matter is profound, but certainly not out of reach for high school students. This movie would be ideal to use with seniors at the end of the year, to get them interested and focused as spring fever and senioritis set in.

Age Appropriateness Rating: This documentary film has not (yet) been rated in the United States. There is nothing inappropriate apart from one use of the "f-word" by a man being interviewed. It is safe for all ages to watch. The complex subject matter can be understood by mature high school students.

Creators and Stars: Margaret Atwood, Jennifer Baichwal, Zeitgeist Films, Conrad Black, Gregorio Venegas, Jon Esformes, Gjin Marku, Petrit Prenga, Casi Callaway, Louise Arbour, Florence Barran, Karen Armstrong, Raj Patel, Gerardo Reyes, William Rees, Rodney Lyons, Lukas Benitez, Pashke Prenaga

Historical Accuracy: Payback is a documentary recounting firsthand experiences and knowledge from experts in their fields. Based on the book Payback: Debt and the Shadow Side of Wealth by Margaret Atwood.
Vocabulary Terms: Kanun code, debt, moral conduct, crime, penitentiary, farm laborers, isolation, punishment, oppression, modern slavery, reparation, biological deficit, ecological debt, chemical dispersant, free market, capitalism, mental construct

Review Questions: 1. What is the Kanun code? 2. In your opinion, what is meant by the phrase "crime does not pay"? 3. Does society owe a "debt" to prisoners? 4. Has the plight of Immokales farm laborers made you question where your food comes from? 5. Conrad Black remarks in the film that we no longer bother trying to reform prisoners; instead, we ostracize them. Do you agree? Why or why not? 6. Do you agree with Karen Armstrong, that all societies are unjust because they are all based on the oppression of large numbers of people? 7. What does William Rees mean by the terms "biological deficit" and "ecological debt"? 8. According to Casi Callaway, why was the use of chemical dispersants the worst possible solution to the BP oil spill in the Gulf of Mexico? 9. Do you agree with the statement that "capitalism rests on the assumption of the infinite capacity to expand"? 10. The fisherman interviewed for the film remarks that those who use powdered laundry detergent, which acts as a chemical dispersant, to disperse oil and gasoline spills are fined by the United States Coast Guard for doing so. Yet the federal government allowed BP (British Petroleum) to use chemical dispersants throughout the Gulf of Mexico to disperse the massive oil spill there. How can you explain this inconsistency?

Click here to print a free worksheet with these review questions for students (PDF). Click here to enlarge the film poster.
Payback Movie Review Publication Date for Citation Purposes: April 25, 2012