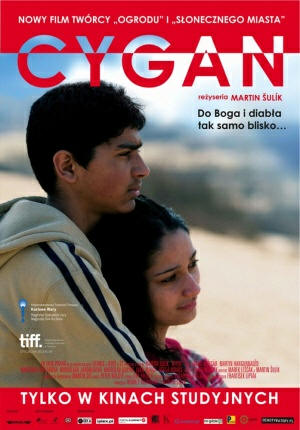 Length: 107 minutes (1 hour, 47 minutes)

Age appropriateness: Cigán (a.k.a. Cygán, Gypsy, or Roma) is not officially rated in the United States. This film, in Slovak and Romany with English subtitles, contains profanity, brief nudity (a quick shot of two teenage boys' rear ends as they are stripped and humiliated in a police station), a murder, and dialogue related to sexual activity. If rated in the U.S., I imagine that this film would get a "PG-13" rating. Most high school teachers should not have any problem showing this film to a classroom of mature high school students.

Creators and stars: Attila Mokos, Frantiek Lipták, Ivan Mirga, Janko Mizigár, Jiri Brozek, Katarína Hollá, Martin Hangurbadžo, Marek Lecsák, Martin sec, Martin sulík, Martinka Kotlárová, Miroslav Gulyas, Miroslava Jarábeková, Peter Mojzis, Rudolf Biermann

Synopsis (courtesy of the filmmakers): "Adam, a boy from a Roma settlement in Eastern Slovakia, has only two joys in his life: his training as a boxer and his girlfriend, Julka. But when his father is killed under mysterious conditions, his mother marries her brother-in-law, the loan shark and thief, Zigo. Adam's life changes from one day to the next. He must suddenly grow up and do his best to protect his brothers from Zigo's influence. But his stepfather draws them into his dubious business, and Adam finds himself more and more in conflict with the laws of his own community."

Accuracy: Cigán is a fictional story, set among the Roma of Eastern Europe (Czech Republic/Slovakia), and is based on William Shakespeare's The Tragedy of Hamlet, Prince of Denmark. The plot of Cigán mirrors that of Hamlet, including murder, revenge, and visits from the ghost of the main character's recently deceased father. The Roma cast is filled with authentic "gypsies" (not professional actors).
| | | | | | | | | | | |
| --- | --- | --- | --- | --- | --- | --- | --- | --- | --- | --- |
| | | | | | | | | | | |
| | Janko Mizyigár as Adam, left, with Martin Hangurbadzyo as his brother Marian in Martin Syulík's GYPSY. | | A scene from Martin Syulík's GYPSY. | | Miroslav Gulyas as Zyigo in Martin Syulík's GYPSY. | | Wedding reception scene from Martin Syulík's GYPSY. | | Martinka Kotlárová as Julka in Martin Syulík's GYPSY. | |
Review: Cigán offers a fascinating glimpse into the daily lives of members of Eastern Europe's Roma community. The filmmakers shot this movie on location, using local Roma as the film's cast. According to Martin sulík (director) and Marek Lescák (co-writer), they sought to learn about the circa 200,000 Roma living in eastern Slovakia. The local Roma community agreed to participate in the making of this film because they saw it as an authentic portrayal.

For many Americans, knowledge of the Roma is (sadly) largely restricted to Cher's popular song "Gypsies, Tramps, and Thieves." This movie definitely includes all three of these. But the film is crafted in such a way that I walked away with an understanding of the Roma as a group just as complex and fascinating as the larger population groups from which the gypsies exclude themselves.

Cigán is a great film for teaching cultural awareness to teenagers. Teachers and parents should have no trouble (despite the subtitles) getting kids to watch this movie. The plot is interesting (it's based on Hamlet), centering on a cute teenage boy, his friends, and his relationship with a cute teenage girl.
Review and discussion questions: (1) Compare and contrast this movie with Shakespeare's Hamlet (for those who have read or seen this play). (2) How does the ghost of Adam's father lead him to the truth about how he died? (3) Do Roma parents seem more or less permissive than parents in your own community? (4) Imagine that you are Julka. How might you react to being sold in order to help your family get out of debt? (5) Using a Venn diagram, compare and contrast your community with that of Eastern Europe's Roma. (6) Locate eastern Slovakia on a map. (7) In your opinion, does this film depict the Roma accurately and fairly? Why or why not? Explain your answer. (8) Can you imagine yourself living this lifestyle? What does and does not appeal to you? Explain.

Vocabulary terms: accident, boxing, community, ethnic group, exclusion, ghost, gypsies, human trafficking, inhalants, murder, police, priest, revenge, robbing, Roma, stealing, theft
Cigán Movie Review Publication Date for Citation Purposes: June 14, 2012