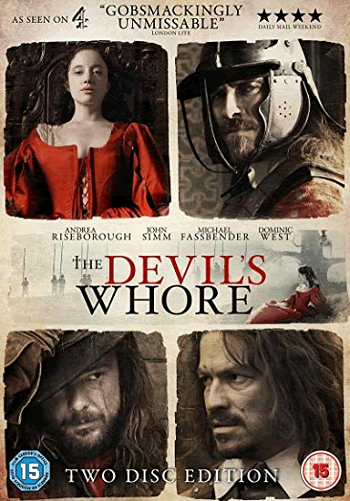 Length: 4 episodes, approximately 50 minutes each

Age appropriateness: "The Devil's Whore," released under the name "The Devil's Mistress" in the United States, is not officially rated. There is no nudity (due to brilliant camera work), but the scenes of a sexual nature leave no doubt as to what is happening. The violence is non-gratuitous, but is entirely appropriate for the subject matter (the Puritan Revolution, a.k.a. the English Civil War). This television miniseries should be fine for home viewing by students of high school age. However, due to the sexually-themed content (which has historic importance, as it is used to illustrate the freedoms and rights of women in puritanical England, as well as the general stance on sex during the time period), classroom teachers should be cautious and use their best judgment if deciding to show this during school hours.

Creators and stars: Company Pictures, Adrian Schiller, Al Weaver, Andrea Riseborough, David Sherwood, Dominic West, John Simm, Marc Munden, Martine Brant, Maxine Peake, Michael Fassbender, Peter Capaldi, Peter Flannery, Rob van Vuuren, Tim McInnerny, Tom Goodman-Hill

Accuracy: The main character, Angelica Fanshawe, is fictional. However, the other main characters whom she encounters are real, and are for the most part depicted with accuracy. Some liberties are taken (such as depicting John Lilburne as married to Elizabeth Dewell in 1638, three years before this marriage took place). And of course, historical figures such as Edward Sexby and Thomas Rainsborough were not married to a fictional character.

Review: "The Devil's Whore" provides the best "slice of life" look at 17th-century England (1638-1660) that I have ever seen in a feature film. The story is told through the eyes of Angelica Fanshawe, a fictional woman of the nobility whose mother abandons her at a young age to join a nunnery in France. This early look at the persecution of Catholics in England is only the beginning of Elizabeth's walk through English history. Elizabeth marries her first cousin, a noble who sides with Charles I during the English Civil War (1642-1651). Following his death, she marries Thomas Rainsborough (1610-1648), a famous Leveller who fought alongside Oliver Cromwell (whom Angelica also befriends over the course of the film).

After Rainsborough's death, Angelica falls on hard times, and commits murder rather than prostitute herself in exchange for a warm meal. She then joins a communal farm of Levellers, where she falls in love with a young man named Christian. Christian, however, eventually joins the Ranters, a fascinating and bizarre Christian group that does not believe in sin, but instead revels in sex and vice. Soon enough, however, Elizabeth is rescued by her third husband, Edward Sexby (1616-1658), presented as much more chivalrous than he likely was in real life, who was later executed for his role in a plot to assassinate Oliver Cromwell (1599-1658).

Suffice it to say that viewers will walk away from "The Devil's Whore" with a much better understanding of the English Civil War (also known as the Puritan Revolution), an important period in global history that is little known or understood outside of the British Isles. For example, have you ever heard of John Lilburne? He coined the phrase "freeborn rights" and is credited by American historians and experts on jurisprudence as the ideological force behind the Fifth Amendment of the United States Constitution; his words were cited in the U.S. Supreme Court's majority opinion in Miranda v. Arizona (1966). John Lilburne and his doctrines are featured prominently throughout this program. So for this, and the other fascinating looks at historical people, events, and ideas, I strongly recommend "The Devil's Whore."
Review and discussion questions: (1) Why is the chapel of Angelica's mother in a hidden location? (2) Describe the reign of Charles I. (3) Why does John Lilburne repeatedly find himself in trouble with the authorities? (4) Describe the philosophy of the Levellers. (5) Why does Oliver Cromwell insist on bringing so much death and destruction to Ireland? (6) Why is Charles I executed? (7) Describe the behavior of the Ranters. (8) Why did those who fought with Oliver Cromwell turn against him? (9) Imagine that you are Angelica Fanshawe. What might you have done differently? Explain your answer. (10) The English Restoration of 1660 restored the Stuart dynasty to the throne under Charles II. The Glorious Revolution of 1688 replaced the then reigning monarch with William and Mary. Gradually, the power of the English monarch weakened over time; Elizabeth II is little more than a figurehead today. Why do you imagine that it took so long, including two revolutions, for England to change from the absolute rule of Charles I to the democracy of modern times?

Vocabulary terms and names: Catholics, Cavaliers, Charles I, Commonwealth of England, Edward Sexby, English Civil War, "Freeborn John" Lilburne, freeborn rights, Ireland, Levellers, Lord Protector, New Model Army, Oliver Cromwell, Parliamentarians, Protectorate, Protestants, Puritan Revolution, Puritans, Ranters, Roundheads, Royalists, Scotland, Thomas Rainsborough

Miscellaneous: "The Devil's Whore" is unique for a British-based drama, in that it was filmed in South Africa.
"The Devil's Whore" (a.k.a. "The Devil's Mistress") Miniseries Review Publication Date for Citation Purposes: August 11, 2012