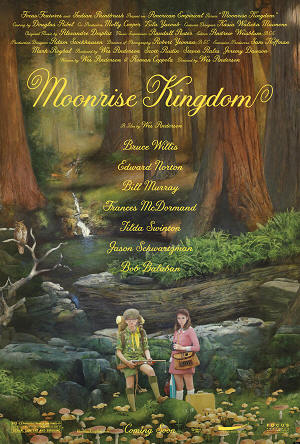 Length: 94 minutes (1 hour, 34 minutes)

Review: Moonrise Kingdom is another enjoyable film by acclaimed director Wes Anderson (The Darjeeling Limited, The Royal Tenenbaums, The Fantastic Mr. Fox). The plot involves a young orphaned boy and troubled girl (both around 13 years of age) running away to set up camp in unoccupied areas of a small island in the northern Atlantic. In a nutshell, it's a quirky teen romance and coming-of-age story. Both adults and teens should enjoy it.

This film does not have any important historical events depicted, so it's better for a family movie night than for a classroom viewing. That being said, teens will get a nice slice of postwar Americana from this film.

Like other Wes Anderson films, Moonrise Kingdom has a soundtrack that really helps the story. This movie features a lot of classic Hank Williams songs, as well as Benjamin Britten's famous "The Young Person's Guide to the Orchestra."

Age appropriateness: Moonrise Kingdom is officially rated "PG-13" in the United States. It contains no nudity, but there are vague sexual references (the main character "feels up" the main female character through her bra). There is quite a bit of cigarette smoking (the film is set in 1965). I heard the words "sh*t" and "damn" once, but other than that, the film contains no profanity.

There are hints of violence (a boy gets stabbed with a pair of scissors, but the cut isn't shown). Additionally, the mother of the female protagonist is having an affair, but she and her romantic interest are not seen doing anything other than talk.

Most parents shouldn't have any problem letting their kids, aged 12 and up, watch this film.

Creators and stars: Bill Murray, Bob Balaban, Bruce Willis, Chandler Frantz, Charlie Kilgore, Edward Norton, Focus Features, Frances McDormand, Gabriel Rush, George J. Veziba, Harvey Keitel, Indian Paintbrush, Jake Ryan, James Wilcox, Jared Gilman, Jason Schwartzmann, Jordan Puzzo, Kara Hayward, L.J. Foley, Lucas Hedges, Neal Huff, Roman Coppola, Seamus Davey-Fitzpatrick, Tanner Flood, Tilda Swinton, Tommy Nelson, Wes Anderson, Wyatt Ralff

Accuracy: Moonrise Kingdom is set on a group of islands off the New England coast of the United States in the late summer/early fall of 1965. I only saw this film once in the theater, but the sets and props appeared authentic to the period, with no glaring historical anachronisms. Click here to enlarge the film poster.
Moonrise Kingdom Movie Review Publication Date for Citation Purposes: June 9, 2012