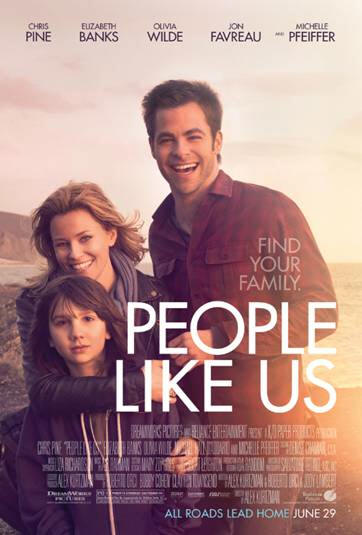 Length: 115 minutes (1 hour, 55 minutes)

Age appropriateness: People Like Us Is officially rated "PG-13" in the United States. This film has no place in a classroom, but is safe for teens to see in the theater or on DVD.

Creators and stars: DreamWorks Pictures, Alex Kurtzman, Bobby Cohen, Chris Pine, Clayton Townsend, Elizabeth Banks, Jody Lambert, Mark Duplass, Michael Hall D'Addario, Michelle Pfeiffer, Olivia Wilde, Philip Baker Hall, Roberto Orci

Accuracy: The official boilerplate for People Like Us states that this film is inspired by true events. However, I cannot find any information that might confirm this. "In a story inspired by true events, Sam, a twenty-something, fast-talking salesman, is tasked with fulfilling his estranged father's last wishes—delivering an inheritance to a sister he never knew he had."

From DreamWorks Pictures:

From DreamWorks Pictures comes "People Like Us," a drama/comedy about family, inspired by true events, starring Chris Pine ("Star Trek") as Sam, a twenty-something, fast-talking salesman, whose latest deal collapses on the day he learns that his father has suddenly died. Against his wishes, Sam is called home, where he must put his father's estate in order and reconnect with his estranged family. In the course of fulfilling his father's last wishes, Sam uncovers a startling secret that turns his entire world upside down: He has a 30-year-old sister Frankie whom he never knew about (Elizabeth Banks). As their relationship develops, Sam is forced to rethink everything he thought he knew about his family—and re-examine his own life choices in the process.

The film also stars Olivia Wilde, Michael Hall D'Addario, Philip Baker Hall, Mark Duplass and Michelle Pfeiffer.

A DreamWorks Pictures presentation, "People Like Us" is directed by Alex Kurtzman, produced by Roberto Orci, Bobby Cohen and Clayton Townsend, and written by Alex Kurtzman & Roberto Orci & Jody Lambert. The film releases in U.S. theaters on June 29, 2012.
| | | | | | | | | | | |
| --- | --- | --- | --- | --- | --- | --- | --- | --- | --- | --- |
| | | | | | | | | | | |
| | Elizabeth Banks | | Chris Pine | | Movie Locations Map | | Dana Delaney | | Russell Simmons | |
Review: People Like Us is the story of a complicated, modern, nontraditional family. All of the characters are flawed, from a mother (Michelle Pfeiffer) who kept her husband from visiting his illegitimate daughter, to a son who rarely visits his parents, to a daughter who becomes an alcoholic after the childhood abandonment by her father. Despite their dysfunction, the members of this family connect, largely through their interest in the youngest member of the family, played by Michael Hall D'Addario.

Pros: This movie delivers the positive message that family members can come together and form strong, loving bonds despite negative things that may have happened in the past. It shows adults admitting to their mistakes and trying to make amends by doing the "right thing."

Cons: This film seems unnecessarily lengthy. It took far too long for the protagonist (Chris Pines) to reveal his identity to his sister (Elizabeth Banks). There is also a romantic scene between Banks's character and a man in her apartment building that is unneeded.
People Like Us Movie Review Publication Date for Citation Purposes: June 26, 2012