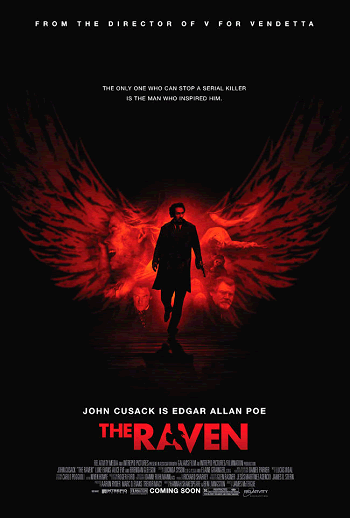 Length: 111 minutes (1 hour, 51 minutes)

Review: The basic plot of The Raven is fairly common for entertainment (I think I've even seen it in an episode of "Murder She Wrote"). A serial killer decides to act out the grisly murders depicted in a writer's works, in this case, the gothic horror stories of Edgar Allan Poe. But here, the basic plot is even more preposterous and senseless; not only that, the audience can sense each plot twist well ahead of the characters on screen. At the end of the film, when the identity of the killer is revealed, I sat in the theater wondering, "Huh?" There was no rewind button, though, so there I sat. It was a bit like watching some of Hollywood's best actors appearing in a Lifetime Movie being directed by a talented director with a huge budget.

This isn't to say that I disliked the film.

Apart from being completely grossed out by the special effects (which is the point of this movie's special effects), and taken in by the suspense, I was wowed by the terrific acting and cinematography. John Cusack has done better work, but he is great on screen given the script he was working with. Brendan Gleeson is, as usual, amazing to watch. Luke Evans is perfectly cast as the hardnosed detective. Alice Eve does a great job playing the damsel in distress (whose character, surprising for this genre, nearly succeeds in rescuing herself). My only complaint in the acting department is the underuse of up-and-coming British actor Oliver Jackson-Cohen, who is stuck in a role that may as well be held by a no-name actor.

Despite the predictable plot and fictional look at Edgar Allan Poe's life, The Raven is quite mesmerizing. It's such a fun, well-filmed ride that, by the time the closing credits were on the screen, I was giving it a thumbs-up in my head.

If your teenager enjoys horror and gore, there are sadly much worse things that he/she could watch (I'm thinking specifically of the Saw franchise). And the use of Poe's fiction as a plot device could work to get your teenager interested in reading Poe's works.

Age Appropriateness Rating: The Raven is rated R in the United States for gruesome depictions of violence. It is not for the faint of heart. It is completely inappropriate for classroom viewing, and should only be watched by those teens with strong stomachs and a love for blood and guts (literally). Normally, I would blast against a film this violent. But it's based on classic American antebellum literature by Edgar Allan Poe, and if you've ever read his stuff, you know that it's pretty darn gross (and the one "true" thing that this film sticks pretty close to are Poe's descriptions of violence and death).

Creators and Stars: Relativity Media, Intrepid Pictures, Adrian Rawlins, Aidan Feore, Alice Eve, Ben Livingston, Brendan Coyle, Brendan Gleeson, Charity Wakefield, Dave Legeno, Hannah Shakespeare, Ian Virgo, James McTeigue, Jimmy Yuill, John Cusack, Kevin McNally, Luke Evans, Matt Devere, Michael Cronin, Michael Kelly, Michael Poole, Michael Shannon, Oliver Jackson-Cohen, Pam Ferris, Sam Hazeldine, Sergej Trifunovic

Miscellaneous: You can read Edgar Allan Poe's works for free courtesy of Project Gutenberg here.

High school classes tend to stick with "The Raven," "Annabel Lee," and, at most, "The Tell-tale Heart."

Expanding your youngster's reading of Poe to the more ghastly stuff might make for some interesting conversations around the dinner table (if you are brave enough to discuss Poe's works while eating). Click here to enlarge the film poster.
The Raven Movie Review Publication Date for Citation Purposes: April 25, 2012