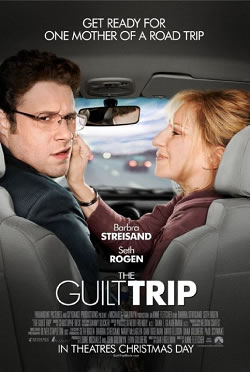 2012, Rated PG-13, 95 minutes (1 hour, 35 minutes).

Creators and stars: Anne Fletcher, Barbra Streisand, Dan Fogelman, John Funk, Julene Renee, Kathy Najimy, Miriam Margolyes, Paramount Pictures, Robert Curtis Brown, Rose Abdoo, Seth Rogen, Tom Virtue, Vicki Goldsmith, Vivian Vanderwerd, Worth Howe, Zabryna Guevara.

The Guilt Trip is officially rated PG-13 in the United States based on a few instances of the F-word and some slightly risque content. Very few parents will have a problem letting their junior high kids watch this film.

Starring Barbra Streisand and Seth Rogen as mother and son, The Guilt Trip manages to be both funny and heartwarming without relying on the cliches one would expect based on the film's title and premise. The mother is loving and extremely concerned about her son, without being overbearing. The son is slightly annoyed by his mother's involvement in his life, without ever questioning her good intentions.

Those who will most enjoy this movie are older kids (up to any age). The Guilt Trip is a great film for parent and older child to watch snuggled up on the couch on Mother's Day. Most people will see at least a little bit of their own mothers in Barbra Steisand's charming character. View the official movie poster here. Purchase the film here.
| | |
| --- | --- |