American Presidents Charades Game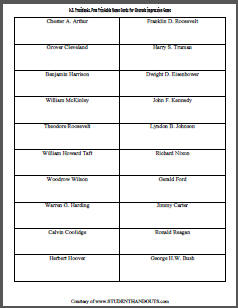 This game is great for parties, high-absenteeism days, and snow days at home. It's similar to traditional charades mixed with Password.
Players partner up on numerous teams, or form two larger teams. One player from a partnership/team draws a card with the name of a U.S. president or founding father (or mother). Without giving away the person's name, the player gives clues until his/her partner/teammates can guess the answer correctly.
For example, a player draws "John F. Kennedy."
The player might say things like: "Ask not what your country can do for you!"
"Assassinated by Lee Harvey Oswald."
"Married to Jackie."
You get the idea. It seems fairly easy, since pretty much everyone listed is a household name. But you'd be surprised how easily stumped you may get!
There are a total of 3 sheets here, with 18 name cards per sheet. Print them out, cut them apart, and throw them into a fish bowl. Let the game begin! Click
here
to print.
Click here for more free activities for Presidents Day, including worksheets, coloring sheets, and clip art.