Length:
80 minutes (1 hour, 20 minutes)
Reviewer:
Ms. Fox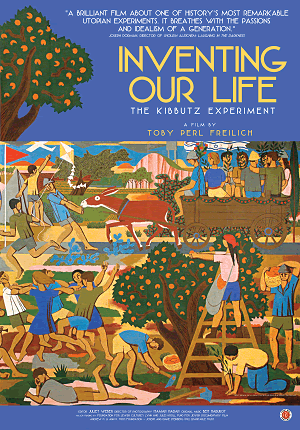 Review:
Inventing Our Life: The Kibbutz Experiment
is an interesting look at this century-old socialist experiment in Israel. Whether your students are studying Israeli History or socio-economic systems, we strongly recommend this documentary. For History students, this film provides fascinating insight into the role of the kibbutzim in the founding of the modern Israeli state. For students of socio-economic systems, this movie critically examines whether or not it is possible for a communal society, filled by volunteers, to compete with the capitalist outside world in attracting younger generations. The opinions expressed are diverse, and the filmmakers remain neutral on the future of kibbutzim.
Age appropriateness:
Inventing Our Life: The Kibbutz Experiment
is not officially rated in the United States. It is safe viewing for all ages. The content of this documentary film is best suited for students in grades seven through twelve.
Creators and stars:
Avishai Margalit, Beit Habubot, Itamar Hadar, Juliet Weber, Menachem Brinker, Moshe Halbertal, Toby Perl Freilich, Tracy Thorne
Accuracy:
Inventing Our Life: The Kibbutz Experiment
utilizes firsthand accounts as well as archival footage. The interviewees come from a variety of backgrounds, and express a broad range of viewpoints. This film is in English and Hebrew with English subtitles.
Click
here
to enlarge the official film poster.
Vocabulary terms:
collective, communal movement, diaspora, doctrinaire socialism, egalitarianism, equality, ideology, Israel, kibbutz, kibbutzim, kibbutznik, obsolescence, pioneers, pogroms, privatization, reforms, social justice, socialist, survival, Zionism
Discussion and review questions: (1) When was the first kibbutz established, at Degania? (2) What was life like for Jews living under the Russian tsar before World War I and the Russian Revolution? (3) What was the goal of the founders of the first kibbutzim? (4) What role did kibbutzim play in the founding of the Israeli state? (5) What was life like for children on a kibbutz during the first half of the twentieth century? (6) How did Jewish immigrants from Arab countries affect the kibbutzim? (7) Who came to power in Israel in 1977, and how did his rule affect the kibbutzim? (8) How did the Israeli economic crisis of the 1980s affect the kibbutzim? (9) Describe modern urban kibbutzim. (10) How do some kibbutzim manage to thrive today? (11) What do you imagine will become of kibbutzim in the future? (12) Create a timeline illustrating the History of the kibbutz movement.
Inventing Our Life: The Kibbutz Experiment Movie Review Publication Date for Citation Purposes: June 2, 2012