Salmon Fishing in the Yemen (2012)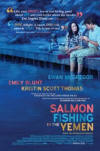 Length:
112 minutes (1 hour, 52 minutes)
Age appropriateness:
PG-13 -
Salmon Fishing in the Yemen
contains no nudity, but does have some very brief sexual content and profanity. Due to its satirical nature, we feel that this film is more appropriate for students in senior high school than for students in junior high school. This film is probably best for "family movie night" as opposed to classroom viewing.
Creators and stars:
Paul Torday, Ewan McGregor, Emily Blunt, Kristin Scott Thomas, Amr Waked, Tom Mison, Lasse Hallstrom, Simon Beaufoy
Accuracy:
This film is fictional (based on the Paul Torday novel of the same name). It takes place in modern-day Great Britain and Yemen. The backdrop is the political turmoil taking place in the Middle East and the Western role in it.
Review:
Salmon Fishing in the Yemen
is a terrific way to introduce political satire to teenagers. The humorous plot involves a Yemeni sheik seeking to introduce salmon fishing to his desert homeland. A British fisheries expert (played by the terrific Ewan McGregor) is called upon to assist in this project by a cynical British political consult (Kristin Scott Thomas in a remarkable performance) who hopes to negate the bad publicity brought to the United Kingdom by the wars in Iraq and Afghanistan. Because of its fictional nature, this film is not appropriate for classroom viewing. However, it makes for a fun, educational, discussion-filled weekend between parents and their teenagers.
Possible Activities and Discussion Questions/Topics: (1) Locate Great Britain and Yemen on a map. (2) What role does the sheik play in local (Yemeni) politics? (3) Why do the Yemeni people reject the project? (4) Does the character of Patricia Maxwell (Kristin Scott Thomas) reflect political reality, or public perceptions of political reality? (5) How important is the art of public relations (PR) in modern politics? (6) Have you ever seen an incidence of a politician using a "photo op" with a veteran to garner popular support?