Ireland Word Search Puzzle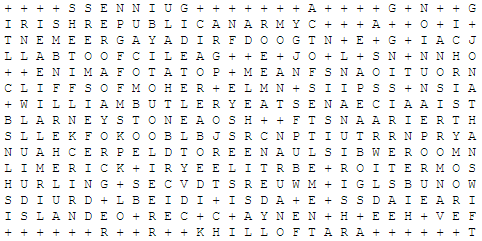 Terms: Irish, emerald isle, Gaels, Celtic, Hibernia, Hill of Tara, druids, Saint Patrick, Book of Kells, potato famine, Act of Settlement, Sinn Fein, Irish Republican Army, Easter Rising, Good Friday Agreement, European Union, Dublin, island, River Shannon, Limerick, Giants Causeway, Cliffs of Moher, Blarney stone, red deer, peat bogs, pastures, Oscar Wilde, Jonathan Swift, James Joyce, Christy Moore, William Butler Yeats, leprechaun, Enya, Van Morrison, Robert Boyle, hurling, Gaelic football, Guinness.

Click here to print.

Click here for more of our free educational materials related to the geography, history, and people of Ireland.