High School and College Assignment Planner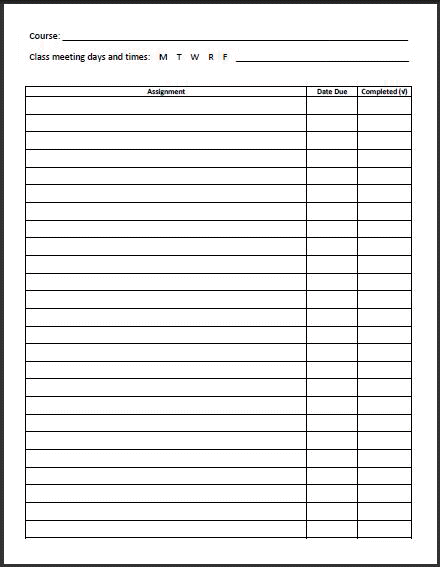 College/High School Course Assignment Planner: This is best used by students operating under a syllabus.
For each class, the student lists all individual assignments due for the semester/term.
A row might read "Read chapter one of
Far from the Madding Crowd
," "3/3/2010," "__."
The next line might read "Answer chapter one questions on
Far from the Madding Crowd
."
The idea is to go in sequential order and to be very specific. Students who lump "read chapter one and answer the questions and come up with topic for paper" tend to forget to do at least one of these items. This can lead to a feeling of being overwhelmed and cause students to fall behind.
By listing assignments line-by-line, as these items are checked off as complete, the student feels a real sense of progress.
Students are recommended to keep a sheet for each course. Every weekday, the student aims to check off at least one item on each list. The average college course boils down to around 30 small assignments.
This equates to six weeks of "homework" (one assignment row per day, five days per week) and a student being ahead of the class.
Use of this type of planning technique is proven (including by our own experiences) to keep students on track.
Remember to look at the syllabus as an apple, with the individual assignments in their tidy little rows as bites you can chew.
Click
here
to print (PDF file). Click for more of our free:
Graphic Organizers
or
Calendars
.