Cultural Literacy Daily Quizzes
"How do you get to Carnegie Hall?" "Practice!"
Free Daily Online Quizzes for Grades 7 & Up - No Registration or Log-In Needed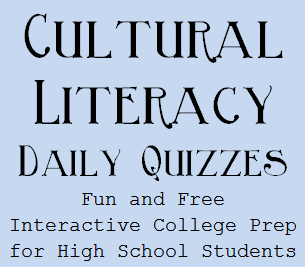 The Core Curriculum State Standards (CCSS) have been adopted in nearly every state.

These standards call for every graduating high school senior to possess cultural literacy--familiarity with information that, to put it simply, most adults assume that every other adult possesses, and that is necessary in order for one to function as a knowledgeable, informed citizen capable of effectively participating in the democratic process.

State proficiency exams, classroom assessments, and college admissions tests are a fact of modern education.

These tests are how things like cultural literacy are measured.

The best way to perform well on these exams is to prepare for them.

To help, we have designed short quizzes for senior high school students (or gifted junior high school students) to take each day.

There is a separate quiz for each and every day of the year.

Parents or homeroom teachers can assign these quizzes at the start of the day, or kids can test themselves after school...whatever works!


Students (and adults) who aren't worried about standardized tests will also enjoy these fun practice tests and games.

They are entertaining and keep the mind sharp.

Impress your friends with your vast knowledge, or prepare for your "Jeopardy!" audition.

Enjoy. For more of our free interactive quizzes and practice tests, click here.