Free Printable Study Game Boards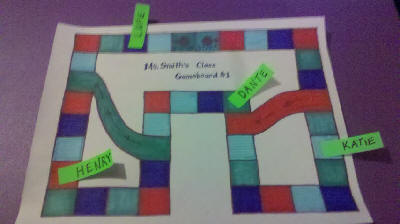 Are you looking for fun, hands-on test preparation games to use with your students? If so, you have come to the right place. For best results, we recommend placing students into game groups of 3-5 players.

This premade game board can be printed in black-and-white or in color.

(If you print the black-and-white version, you will have no shortage of kids willing to color the sheets for you.)

You could also create your own larger game boards using poster board.

Post-It tabs are used as playing pieces because they stick, don't get lost, can't get thrown across the classroom, and are disposable.
Game Rules

1. Student rolls a die. 2. Student answers a question. 3. If student is correct, student moves her/his piece forward the number of spots she/he rolled. The first student to reach the finish line wins the game. (Teachers may want to have candy or small prizes on hand to give to winning students.)

Game Question Cards

Option 1: Create your own Q-and-A cards using index cards. You can use questions taken directly from your tests or from textbook tests. Be as specific or as broad as you choose to be.

Hint: You can even assign the creation of these cards to students as an assignment. For example, the class is divided into teams of five students. Each student on a team is responsible for creating questions for a section of the textbook chapter.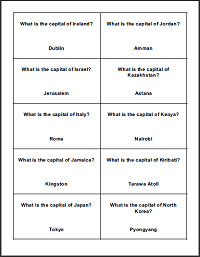 Option 2: Using card stock, print any of our pre-made trivia and test-prep question cards. We have pre-made question cards available for a large number of subjects and topics.

Each standard-sized printable sheet contains ten question cards. Print, cut apart, and voila--you and your students are ready to have fun studying for tests and exams. Be sure to print them on cardstock to ensure durability.

Click here to view our large selection of premade printable game cards. We recommend printing on cardstock for durability.