| | | | | | | | | | | |
| --- | --- | --- | --- | --- | --- | --- | --- | --- | --- | --- |
| | | | | | | | | | | |
| | Printable Game Boards | | Learning Curve Board Game | | USA Facts Printable Game | | Country Capitals Game Question Cards | | General Trivia Game Question Cards | |
| | | | | | | | | | | |
| --- | --- | --- | --- | --- | --- | --- | --- | --- | --- | --- |
| | | | | | | | | | | |
| | Ancient Rome Game Cards | | Literature Board Game Cards | | Fifty States Game Cards | | Soviet Union Board Game Cards | | Constitution Game Question Cards | |
| | | | | | | | | | | |
| --- | --- | --- | --- | --- | --- | --- | --- | --- | --- | --- |
| | | | | | | | | | | |
| | United States Presidents Game Cards | | Social Studies Board Game Question Cards | | Blank Game Cards | | Ancient Greece Printable Trivia Cards | | Black History Month Game Cards | |
Our free printable educational board games can be valuable tools to facilitate student learning in several ways.
Engagement
: These board games are inherently enjoyable and can capture students' interest, making learning more engaging and motivating.
Active Learning
: Playing board games involves active participation, decision-making, problem-solving, and critical thinking. Students learn by doing, which can enhance comprehension and retention of information.
Reinforcement
: Our printable board games offer an opportunity to reinforce and practice what students have learned in a hands-on and interactive way. This repetition can help solidify the kids' understanding of concepts and skills.
Peer Interaction
: Playing board games in class requires students to interact with their peers, promoting social interaction, communication, and cooperation. This can improve their interpersonal skills.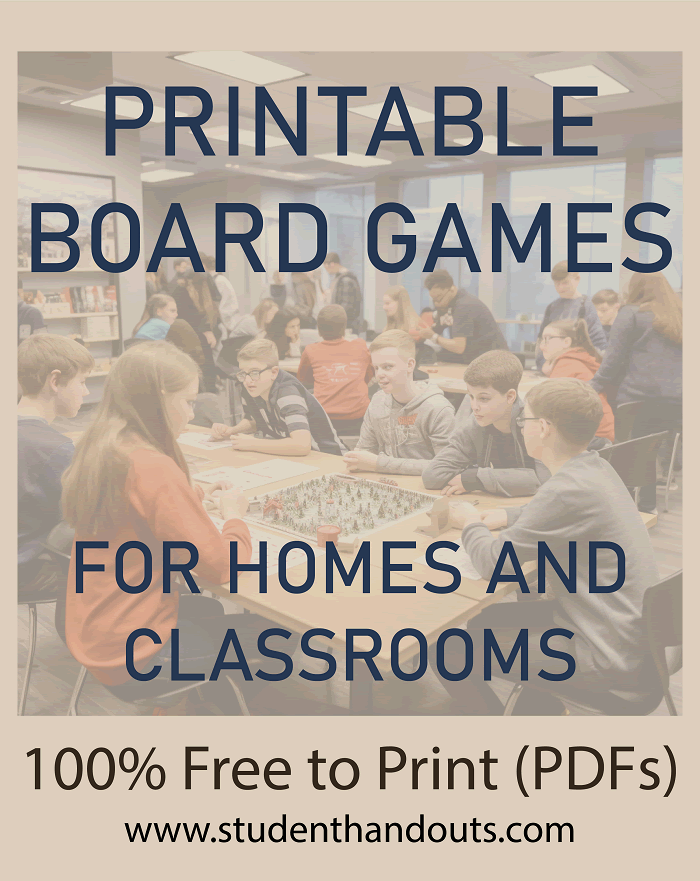 Customization
: Our free printable board games can be tailored to match specific learning objectives, grade levels, or subjects, allowing educators to create targeted learning experiences. Print the pages of cards you want and need, and use only those cards that are suitable to the learning objectives. Teachers and/or students can even create their own game cards to use with our boards!
Multisensory Learning
: Board games engage multiple senses, including sight, touch, and sometimes even sound (if there are cards or pieces to manipulate). This multisensory approach can aid in knowledge retention.
Problem-Solving
: Many board games present students with challenges or puzzles to solve. This fosters critical thinking and problem-solving skills.
Strategy Development
: Some board games require strategic planning and decision-making, helping students develop analytical and strategic thinking skills.
Math and Literacy Skills
: Board games often involve counting, reading, and basic math operations, providing opportunities for the reinforcement of these fundamental skills.
Memory Enhancement
: Many board games involve memorizing rules, strategies, or patterns, which can improve memory and recall abilities.
Independent Learning
: The question cards for our board games can be used for independent study or as a supplementary learning tool outside the classroom, allowing students to take control of their learning.
Variety
: Board games offer a change of pace from traditional classroom activities, providing variety in the learning experience and keeping students interested.
Motivation
: Board games often include elements like rewards, points, competition, and achievements, which can motivate students to strive for excellence and meet their learning goals.
Cultural and Historical Understanding
: Some educational board games are designed to teach about specific cultures, historical events, or geographical locations, promoting cultural awareness and historical knowledge.
Life Skills
: Certain board games teach valuable life skills such as financial literacy, decision-making, time management, and problem-solving in real-life situations.
Creativity
: Students can create their own board games as a project, which fosters creativity and innovation.
Parental Involvement
: Printable board games can be used at home to involve parents or guardians in their child's education, promoting family engagement in learning.
Accessibility
: Printable board games are cost-effective and accessible to a wide range of students, regardless of their access to digital devices or the internet.
Incorporating our free printable educational board games into the learning process can make education more enjoyable, effective, and meaningful for students. They offer opportunities for active learning, critical thinking, and social interaction while catering to various learning styles and abilities.
| | | | | | | | | | | |
| --- | --- | --- | --- | --- | --- | --- | --- | --- | --- | --- |
| | | | | | | | | | | |
| | Earth Science and Topography Game Cards | | Age of Exploration Game Cards | | | | | | | |