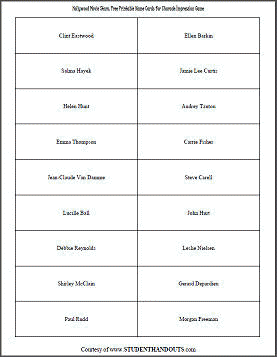 This game is great for parties, high-absenteeism days, and snow days at home.
It's similar to traditional charades mixed with Password. Players partner up on numerous teams, or form two larger teams. One player from a partnership/team draws a card with the name of a famous Hollywood star. Without giving away the actor or actress's name, the player gives clues until his/her partner/teammates is able to guess the answer correctly.
For example, a player draws "Joan Crawford." The player might say things like: "Whatever happened to Baby Jane?" "No wire hangers!" "Mildred Pierce." You get the idea.
It seems fairly easy, since pretty much everyone listed is a household name. But you'd be surprised how easily stumped you may get!
There are a total of 8 sheets here, with 18 name cards per sheet (both current and classic stars). It amounts to a gross (144 names). Print them out, cut them apart, and throw them into a fish bowl. Let the game begin!
Click
here
to print (PDF file).