Ancient Rome Outlines & PowerPoints
| | | | | | | | | | | |
| --- | --- | --- | --- | --- | --- | --- | --- | --- | --- | --- |
| | | | | | | | | | | |
| | Establishment of the Roman Republic PowerPoint | | Establishment of the Roman Republic Outline | | Punic Wars (264-146 B.C.E.) History PowerPoint | | Punic Wars (264-146 B.C.E.) History Outline | | Civil War in Rome and the End of the Roman Republic PowerPoint | |
| | | | | | | | | | | |
| --- | --- | --- | --- | --- | --- | --- | --- | --- | --- | --- |
| | | | | | | | | | | |
| | Civil War in Rome and the End of the Roman Republic Outline | | Rise and Fall of the Roman Empire PowerPoint | | Rise and Fall of the Roman Empire Outline | | Migration Period in Europe, 300-700 C.E. - PowerPoint | | Migration Period in Europe, 300-700 C.E. - Outline | |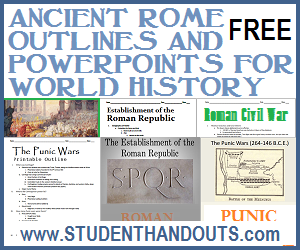 Here they are, the most popular PowerPoints and outlines on the dot-com for teaching the history of ancient Rome to high school students. Our ancient Rome PowerPoints and outlines are completely free to use with your junior and senior high school students.

The materials are divided into four periods: the Roman Republic, the Punic Wars, the Roman Civil War, and the rise and fall of the Roman Empire. (The materials on the barbarian invasions which took place during and after Rome's fall technically belong in the next section, but we digress.)

Our free printable outlines and PowerPoint presentations can be valuable aids for students of World History when studying ancient Rome.

Outlines:
Content Organization: Our outlines provide a structured and organized format for presenting historical information on the ancient Romans. They help students see the logical flow of historical events, key figures, and concepts related to ancient Rome.
Visual Overview: These outlines often use a hierarchical structure with bullet points or numbering, making it easy for students to see the hierarchy of information. This visual overview can aid in understanding complex historical narratives such as the Punic Wars.
Note-Taking: Students can use our outlines as a framework for note-taking during lectures or while reading textbooks and primary sources. This encourages active engagement with the material.
Study Guides: Our outlines can serve as effective study guides. Students can review the key points, dates, and themes in preparation for exams or assignments on ancient Rome.
Customization: These outlines can be adapted to match specific learning objectives or the depth of coverage required for a particular topic in ancient Roman history.
PowerPoint Presentations:
Visual Learning: Our free PowerPoint presentations leverage visual aids, such as images, maps, charts, and graphs, to enhance the visual understanding of historical content. Visual elements can make historical events, like the Roman civil war, and concepts, such as Roman war tactics, more tangible and memorable.
Narrative Structure: These PowerPoint slides can be organized to create a narrative structure that tells a story or presents a chronological sequence of events. This helps students grasp the historical context and evolution of ancient Rome.
Engagement: Our well-designed PowerPoint presentations engage students by incorporating multimedia elements, such as videos, audio clips, and interactive features, which can bring history to life.
Clarity: PowerPoint's slide-by-slide format encourages the concise and clear presentation of information, ensuring that students are not overwhelmed by dense text.
Discussion and Debate: PowerPoint slides can be used to present historical debates or conflicting interpretations of events, encouraging class discussions and critical thinking.
Accessibility: Digital presentations can be easily shared with students, allowing them to review the material at their own pace and access it from various devices.
Customization: Teachers can tailor our PowerPoint presentations on ancient Rome to match their teaching style and students' needs, emphasizing specific themes or highlighting important details.
When using our free printable outlines and PowerPoint presentations in a World History class on ancient Rome, it is important for educators to strike a balance between textual content and visual elements. The visuals should complement the text and enhance understanding, rather than overwhelm students. Additionally, encouraging active engagement, discussion, and critical thinking around the presented material can maximize the benefits of these tools for learning.