Rapid Recall Printable Card Games
| | | | | | | | | | | |
| --- | --- | --- | --- | --- | --- | --- | --- | --- | --- | --- |
| | | | | | | | | | | |
| | Thanksgiving Memory-style Printable Card Game for Kids | | Halloween Memory-Style Matching Card Game | | Numerals Memory-Style Game Cards | | ABC Alphabet Memory-Style Game in Print or Cursive | | Irish Symbols Memory-style Card Game | |
| | | | | | | | | | | |
| --- | --- | --- | --- | --- | --- | --- | --- | --- | --- | --- |
| | | | | | | | | | | |
| | Celtic-themed Matching Card Game | | Ancient Greece Rapid Recall Card Game | | | | | | | |
Our Rapid Recall memory games are beneficial for cognitive development, especially in children, but they can also be helpful for individuals of all ages. These games engage and stimulate various cognitive processes, leading to several cognitive and educational benefits.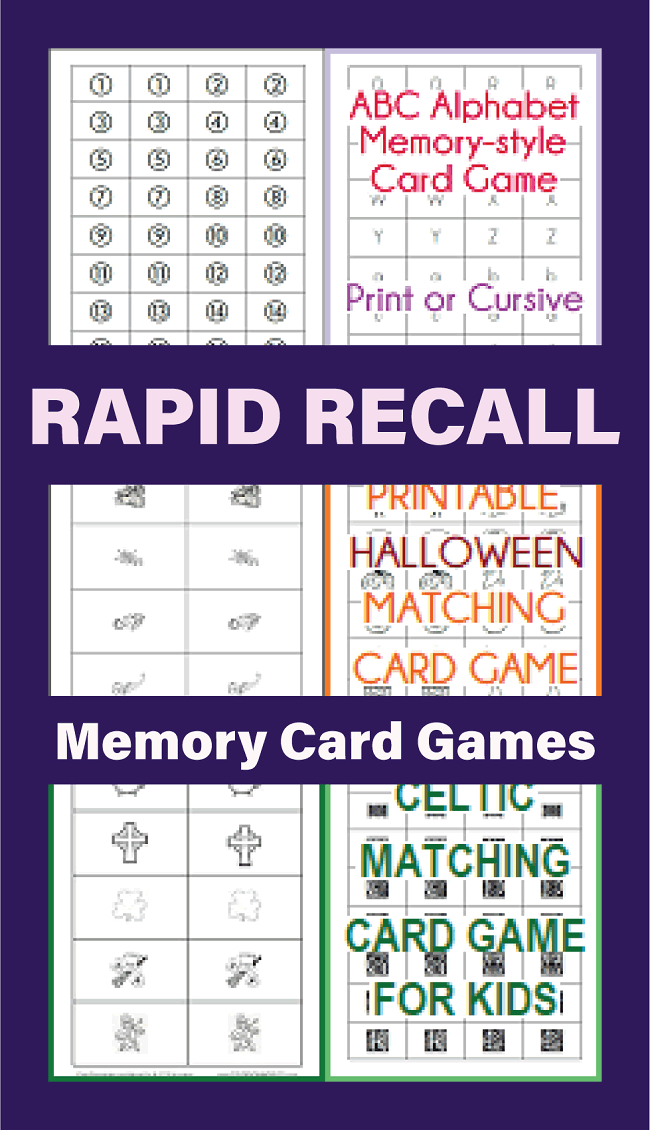 Memory Improvement: The most obvious benefit is the enhancement of memory skills. Memory games challenge the brain to remember patterns, sequences, or specific pieces of information, improving both short-term and long-term memory.

Attention and Concentration: Our memory games require focused attention and concentration. Players need to pay close attention to details and remember them accurately, which can improve attention span and concentration.

Problem-Solving Skills: Many of our memory games involve matching patterns, requiring players to think critically and strategically. This can enhance problem-solving skills as players develop strategies to remember and recall information.

Pattern Recognition: Memory games involve recognizing patterns, which is a critical cognitive skill. This ability to identify and understand patterns is transferable to various academic subjects, such as mathematics and science.

Visual-Spatial Skills: Memory games involve matching or locating specific items within a visual field. This promotes the development of visual-spatial skills, which are essential for tasks like reading maps or understanding geometry.

Working Memory: Working memory is the ability to temporarily hold and manipulate information in the mind. Our Rapid Recall memory games can challenge and improve working memory, which is vital for complex problem-solving and academic tasks.

Language Development: Memory games that involve vocabulary or word recall can aid in language development. These games can expand a player's vocabulary and improve language skills.

Executive Function: Memory games can enhance executive function skills, such as planning, organization, and self-control. Players often need to strategize and manage their resources effectively.

Emotional Regulation: Some memory games can be competitive or challenging, requiring emotional regulation. Learning to handle frustration, cope with setbacks, and stay motivated are important emotional skills developed through these games.

Social Interaction: Memory games can be played with others, promoting social interaction and cooperation. Playing together enhances communication skills, teamwork, and social bonding.

Lifelong Learning: Engaging in memory games encourages a habit of lifelong learning. It fosters a love for mental challenges and problem-solving, which can carry over into other areas of life.

Stress Reduction: Memory games can be relaxing and enjoyable, reducing stress and anxiety levels. Lower stress levels can have a positive impact on overall cognitive function.

Cross-Generational Bonding: Memory games are often suitable for all ages, making them an excellent activity for cross-generational bonding between children, parents, and grandparents.

Our Rapid Recall memory games offer a wide range of cognitive benefits, including memory improvement, enhanced problem-solving skills, increased attention and concentration, and the development of executive function skills. They provide an engaging and enjoyable way to challenge and stimulate the brain, promoting cognitive development across various age groups.

Enjoy our variety of free printable Rapid Recall memory card games! We recommend printing on card stock for durability.