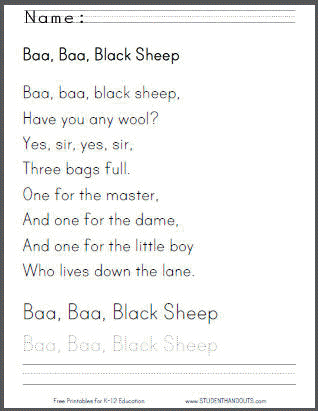 This free printable features the popular children's nursery rhyme "Baa, Baa, Black Sheep." Children read aloud, then practice writing the title.
Baa, baa, black sheep,
Have you any wool?
Yes, sir, yes, sir,
Three bags full.
One for the master,
And one for the dame,
And one for the little boy
Who lives down the lane.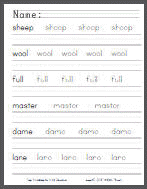 Click
here
to print the sheet to the right.
As an extension activity, have children note the rhyming words: wool/full and dame/lane.
Click
here
to print the handwriting practice worksheet to the left. It features the terms: sheep, wool, full, master, dame, and lane.
Click
here
for more of our free printables and activities for kindergarten. If you are specifically looking for our free nursery rhymes with worksheets, then you should click
here
.