Nursery Rhymes for Children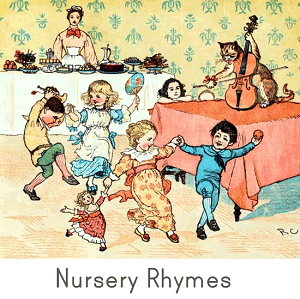 Classic nursery rhymes are a wonderful way to immerse emergent readers into new, varied vocabulary, as well as to get them writing.
Our free, printable worksheets are designed for use by students in kindergarten through second grade, depending upon the individual student's reading and writing level.
Each children's poem is featured on a worksheet that asks students to read, trace, and write the rhyme.
Many of the nursery rhymes feature additional worksheets related to the poem.
Some even contain learning games, such as printable cards that have students match rhyming words.
Familiarity with nursery rhymes is one of the building blocks of cultural literacy.
| | | | | | | | | | | |
| --- | --- | --- | --- | --- | --- | --- | --- | --- | --- | --- |
| | | | | | | | | | | |
| | Pease Porridge Hot | | It's Raining, It's Pouring | | Bow-wow-wow | | The Beggars Are Coming to Town | | Jack Be Nimble | |
| | | | | | | | | | | |
| --- | --- | --- | --- | --- | --- | --- | --- | --- | --- | --- |
| | | | | | | | | | | |
| | A Horse and a Cart | | Baa, Baa, Black Sheep | | "A" Is for Apple Pie eBook | | Little Boy Blue | | Cock-a-doodle-doo! | |
| | | | | | | | | | | |
| --- | --- | --- | --- | --- | --- | --- | --- | --- | --- | --- |
| | | | | | | | | | | |
| | Jack Sprat | | There Was an Old Woman Who Lived in a Shoe | | Diddle Diddle Dumpling | | A Diller, a Dollar | | Hickory Dickory Dock | |
| | | | | | | | | | | |
| --- | --- | --- | --- | --- | --- | --- | --- | --- | --- | --- |
| | | | | | | | | | | |
| | There Was a Crooked Man | | Sing a Song of Sixpence | | One, Two, Buckle My Shoe | | Little Jack Horner | | Shoe the Horse | |
| | | | | | | | | | | |
| --- | --- | --- | --- | --- | --- | --- | --- | --- | --- | --- |
| | | | | | | | | | | |
| | Hey Diddle Diddle | | Little Tommy Grace | | Wee Willie Winkie | | Rain, Rain, Go Away | | See-Saw, Margery Daw | |
| | | | | | | | | | | |
| --- | --- | --- | --- | --- | --- | --- | --- | --- | --- | --- |
| | | | | | | | | | | |
| | A Dog and a Cat | | Sing a Song of Sixpence Gap Text Quiz Game | | | | | | | |